As stated in last months blog. This month we officially begin our new training cycle for the 2015-2016 calendar year. Just like last year we will have quarterly testing to keep track of where we are at. If you are looking to improve I highly suggest making all the test workouts or finding a way to get them done. If you are planning to be a Regional athlete you should do every one of these. Make sure to log all the workouts, lifts, and skill's tested. It is imperative you do this to track your progress so you can achieve the best results possible. Just like last year I will be designing the programming from a strength & conditioning perspective. I have broken down all the movements of CrossFit as well as the bodies energy systems needed to be stressed in order to achieve the best results. By breaking down what it means to be fit I am able to scale, modify, and adjust workouts according to abilty level. What we are looking to achieve is ultimate levels of fitness and that is exactly the goal of the programming for the next 52 weeks. The 2016 CrossFit Games Open is roughly 44 weeks from now. It will be fun to see how we all do in the year. Below is a list of what will be tested as well as this years training plan. I will constantly be updating the plan throughout the year and posting it. Schedules and events always change.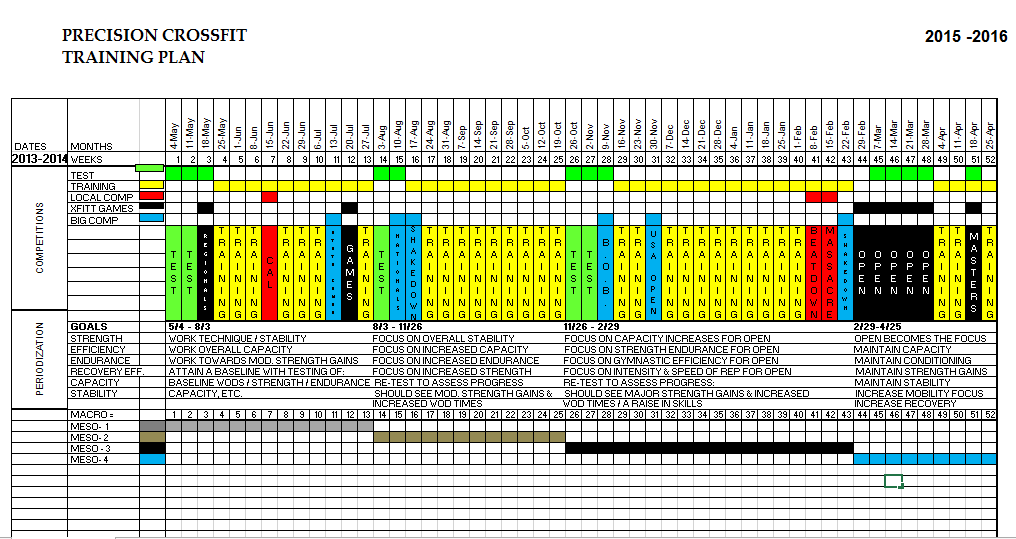 SKILLS TO BE TESTED:
-Pull Strength
-Pull Up Capacity / Efficiency
-Ring Dip Strength
-Ring Dip Capacity / Efficiency
-HSPU Efficiency
-Muscle Up Capacity / Efficiency
-Rope Climb Ability (Regular & Leg Less)
-Handstand Walk Abilities
STRENGTH TO BE TESTED:
-Front Squat
-Back Squat
-OHS
-Clean & Jerk
-Snatch
-Dead Lift
-Thruster
WOD'S TO BE TESTED:
-Fran
-Jackie
-15.4
-Amanda
-Mary or Cindy
-Grace
-Karen
LACTIC THRESHOLD:
-1000 M. Row
-2000 M. Row 
-500 M. Row 
-400 M. Run
-45 Min.Row 
-5K Row 
Some changes were made this year in comparison to last year. The sport of CrossFit as well as CrossFit the fitness routine has definitely evolved. People are getting fitter, stronger, and more skilled. So in breaking down this years programming I did my best to evolve as well. This is going to be an awesome year at Precision and I can't wait to get started. If you are new to the blog or to the gym, welcome. This is the best time to begin following the Precision Training System. Lets grab the bull by the horns right a way and tackle the beast known as "Fran!" See you all in the gym!
For those of you interested these are the Regional Standards for those of you looking to compete at this level in 2016.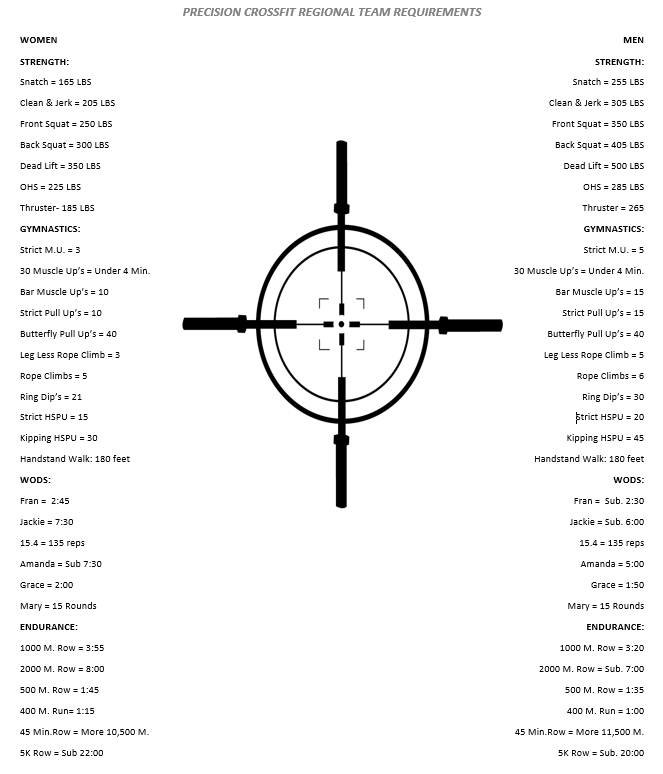 ---
WARM UP:
500 M. Row
25 Thrusters (45/35/15)
15 Push Ups
Then:
5 Min. Hip and Shoulder Mobility
SKILL:
Advanced / Int: Find 1RM Weighted Strict Pull Up (TEST)
Scaled: 4 x 5 Strict Pull Ups
LIFT:
Front Squat (TEST)
7 Min. to Find New 1RM
WOD: (TEST)
"FRAN" 
21-15-9
Thrusters (95/65) (75/55) (65/45) (55/35)
Pull Ups
POST WOD:
Roll and stretch