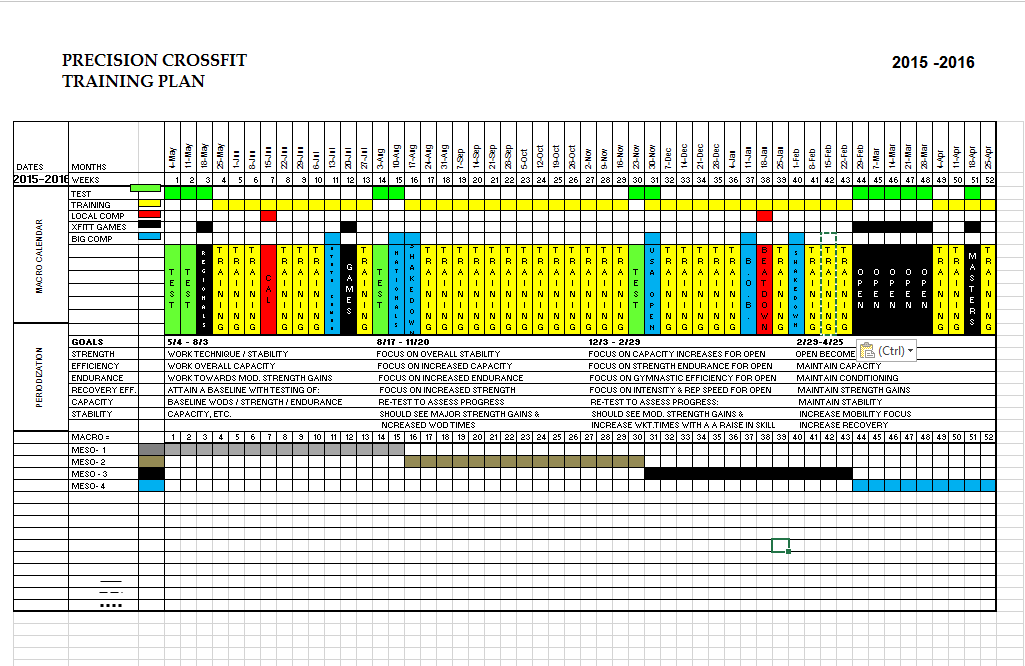 I just want to reiterate to everyone where we are at with the programming on this blog. We are currently in our maintenance cycle until May 2, 2016. This is why you are seeing a lot of fun workouts, complexes, EMOM's and work to heavy single, double, etc. lifts. It is also why the skill has become more dynamic at times with more vertical elements, highly skilled muscle up progressions, and other various gymnastic progressions. The goals is to take the fitness we developed over the past year and to learn, develop, or become more efficient with it until we start a new 52 week training cycle. As of May 2, 2016, the new training cycle to prep for the 2016 Open will begin. If you are member of Precision or follow our blog, be ready to test the first 2 weeks of May. There will be adjustments to the testing cycle for 2016. You will see some different bench marks as the sport is constantly evolving and so must we. Enjoy the rest of April and gear up for May!
Fitness-Strength-Community
---
WARM UP:
Mobilize Shoulders
Then:
10 Pass Throughs
10 Face Pulls
10 Reverse Fly's
10 Y's, T's, & W's
3 Rounds
10 OHS
10 Push Press
10 Push Jerk
10 Split Jerk
LIFT:
3 x 3 Push Press
2 x 2 Push Jerk
3 x 1 Split Jerk
*Work to a heavy single.
SKILL:
3 Rounds (At a Walking Pace)
5 Bar Push Aways
30 Hollow Rocks
5 Ring Banded Transitions
WOD:
"Masters Qualifiers Event 4"
For Time:
55 Bar Facing Burpees
34 OHS (95/65) (75/55) (65/45) (55/35)
21 Muscle Ups
*Sub. Back Squat for OHS, and Ring Dips for MU accordingly.
POST WOD:
2 Rounds
10 Face Pulls
10 Reverse Fly's
10 Y's, T's, & W's