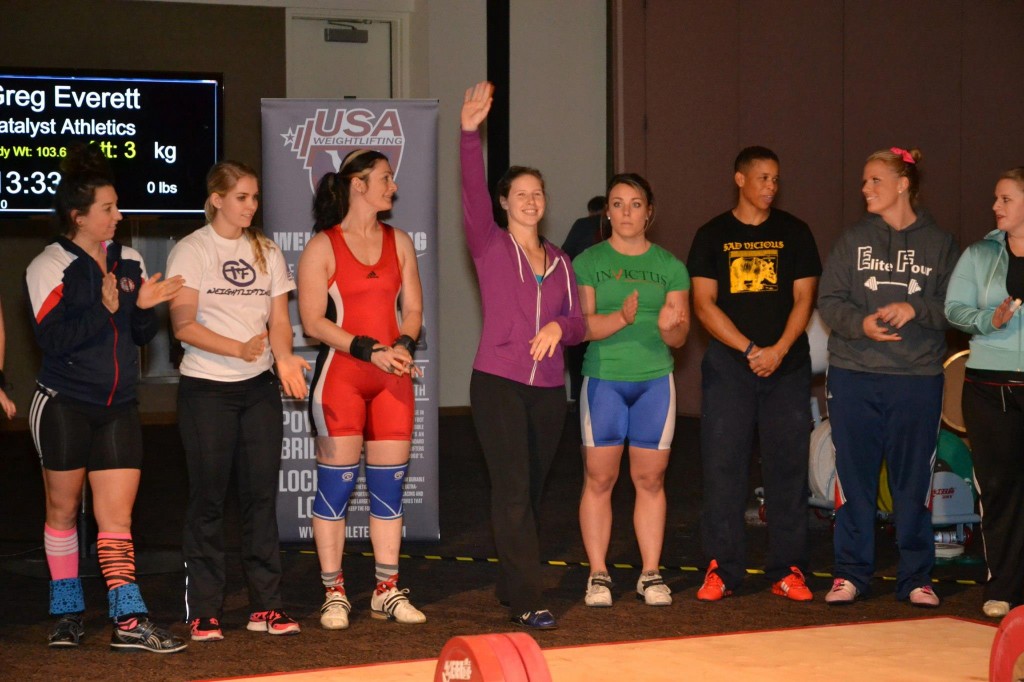 In October of 2011 Crystal Riggs began lifting with me. She had absolutely no background in weightlifting nor did she have any idea what she was capable of… she still doesn't. That very same week Crystal began to lift we took various max's to get an idea of where she was at. Nothing crazy, I was not sure what she could handle, and I will never sacrifice strength over technique, but we did max a few things, none the less. One of those lifts was dead lift, a lift that I will never forget. Crystal picked up the technique quickly and I decided it was ok to load her up. I did not think she would do too much weight, maybe 155 lbs. or something around there. I began adding weight, good rep. Then some more weight, very good. Then more, ok she still is not cracking. Then boom, 300 lbs. Yes her very first time dead lifting Crystal Riggs hit 300 lbs. I was shocked, I had never witnessed so much raw strength and I especially wasn't expecting 300lbs. I mean here was this slightly overweight former cheerleader who had just started lifting hitting a number most men let alone women can only dream of hitting. I thought she would have descent strength, but 300 lbs.!!! I mean really that's insane no matter who you are. I remember all she could say with that contagious smile that never goes away was; "is that good?" I knew right then and there that Crystal was going to be something special.
Flash forward seven months later. Crystal has now made our Regional team. In my opinion she is one of the best young up and coming CrossFitters on the scene that no one knows about. That is until the Snatch ladder on day three. Previously Crystal's max snatch was only 135 lbs. and she had only hit it once. But then Crystal begins to make her way through the ladder, very far through the ladder. In fact she hit the 3rd highest snatch of the entire competition at 150lbs. She did not just hit 150lbs. she proceeded to push through the ladder all by herself. The only athlete out there, another experience I will never forget. Crystal was beginning to make a name for herself and I knew that the American Open was in her near future. This is the CrossFit Games of Olympic Weightlifting. Lifters train for years just to qualify for this competition and Crystal Riggs had the ability to do so within her very first year.
Three months later Crystal does her very first weightlifting meet at Axiom CrossFit. It is a small meet set up mainly for first time lifters to get some experience, and to help those with aspirations to make the American Open. In preparing Crystal for the meet I do two things. One, I don't tell her how much she needs to qualify and two, I made sure she lifted in a controlled safe environment that she was familiar with. Little did Crystal know she had been hitting numbers in training well beyond those needed. Then in her first two opening lifts, in her very first competition, Crystal qualified for the American Open. The qualifying totals for the American Open for the 75 Kilo weight class is 145K (319lbs), Crystal in just two lifts totaled 154k (339lbs). She had absolutely no idea that she had qualified, nor did she have any idea how big a deal it was. Within 11 months, Crystal Riggs had learned how to lift, and in her opening lifts during her very first weightlifting competition had qualified for the biggest weightlifting competition in the nation, the American Open!
Less than 3 months later and only 14 months from the time Crystal had begun to lift she competed in the American Open. Much like I have emphasized over and over again in this re-cap the magnitude of this accomplishment, I did so to Crystal as well. However, I don't think she really realized it until she arrived at the Palm Springs Convention Center. She walked into the building where the competition was taking place and was instantly shell shocked. She saw the stage with the barbell, and the lights turned down complete with a spotlight on the lifter and was like; "I lift there?" Um… yes Crystal you lift there! During weigh in's Crystal could not believe how fit all the girls looked. I responded with "yeah… so do you. You look just like them" She didn't quite believe me no matter how many times I told her she had a six pack. All she kept saying was "they look so strong," actually doubting if she could lift with them. I kept saying to her, Crystal do you know who you are? You are that girl who dead lifted 300lbs the very first time you dead lifted. You are that girl that went through the snatch ladder at Regionals, PR'ing by 15 lbs. You qualified for the American Open in less than one year since learning how to lift!!! I knew she was going to be just fine. Then we began to warm up and Crystal quickly realized that she was going to be one of the last to lift. You see in lifting meets those with higher opening lifts, lift last. Well Crystal's openers were some of the highest in the 75k weight class, still have doubts Crystal? Warm ups went great and Crystal was out on that stage. What happened once she got out there meant nothing to me though, it was the journey that had meant everything. Regardless of what was going to happen, Crystal was officially competing in the American Open.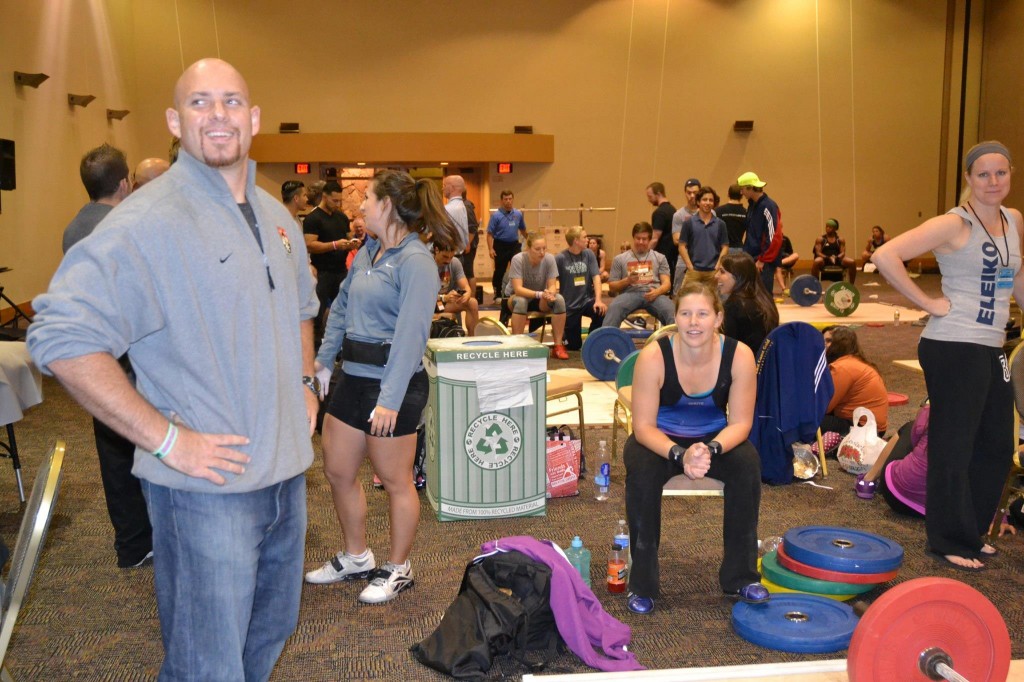 When all was said and done, Crystal had finished 11th overall in the entire nation and Pr'd her competition totals by 7 Kilos. She snatched 71 K (157lbs) and Clean and Jerked 90K (198 lbs.). Previously she had hit 70 K (154lbs) and 84 K (184lbs), placing her new total at 161 K (355lbs). Crystal Riggs at 23 years old, and with one year of weightlifting experience under her belt is now a national lifting competitor ranked 11th in the nation. The scary thing is that we are just getting started. Crystal has absolutely no idea what she is capable of and next year the nation and possibly even the world better look out! We are so proud of you Crystal. Together We are One!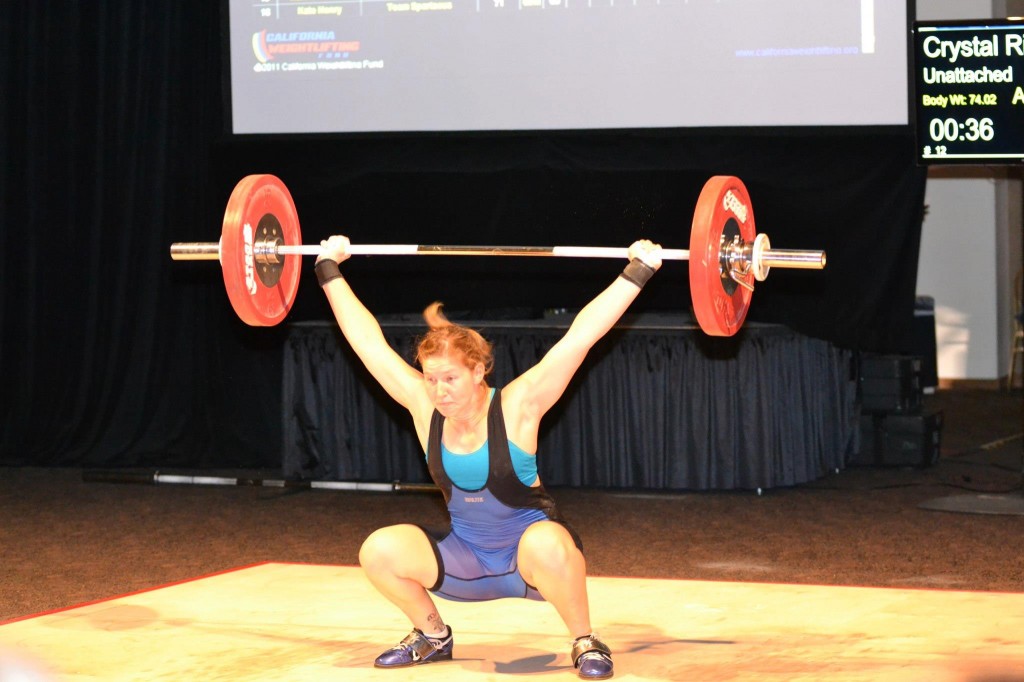 WARM UP:
250 M. Row (Easy)
250 M. Row (Mod.)
250 M. Row (Mod.)
250 M. Row (Sprint)
SKILL:
7 Min. of Muscle Up Work
-Ring Swings
-Ice Cream Makers
-Transitions
LIFT:
Power Squat Snatch
5 @ 65%
4 @ 75%
3 @ 85%
WOD:
"6"
6 Power Cleans (195/125) (175/115) (165/105) (145/95)
6 Muscle Up's
6 Power Snatches (145/95) (125/85) (115/75) (105/65)
6 Muscle Up's
30 Squat Clean's (95/65) (75/55) (65/45)
6 Muscle Up's
*Rx Men. Start with 3 25lb plates on each side and take one off in between rounds Women with 3 15lb plates. Adv = 25,25,15 (M) & 15,15,10 (W).You must change out weights before each movement. Figure out the most effective way!!!
**Sub. MU for jumping MU, MU transitions w/ band or from knees or C2B Pull Ups
POST WOD:
Shoulder Mobility