One of our favorite members is leaving us to move up north. I could not be more happy for her and one of my oldest friends, Aaron Schneider. I received an awesome membership cancelation letter from Sabrina Madden last week. She does an amazing job of capturing so many things that make Precision special. Thank you so much Sabrina for the kind words and good luck to you. We will always be your home box!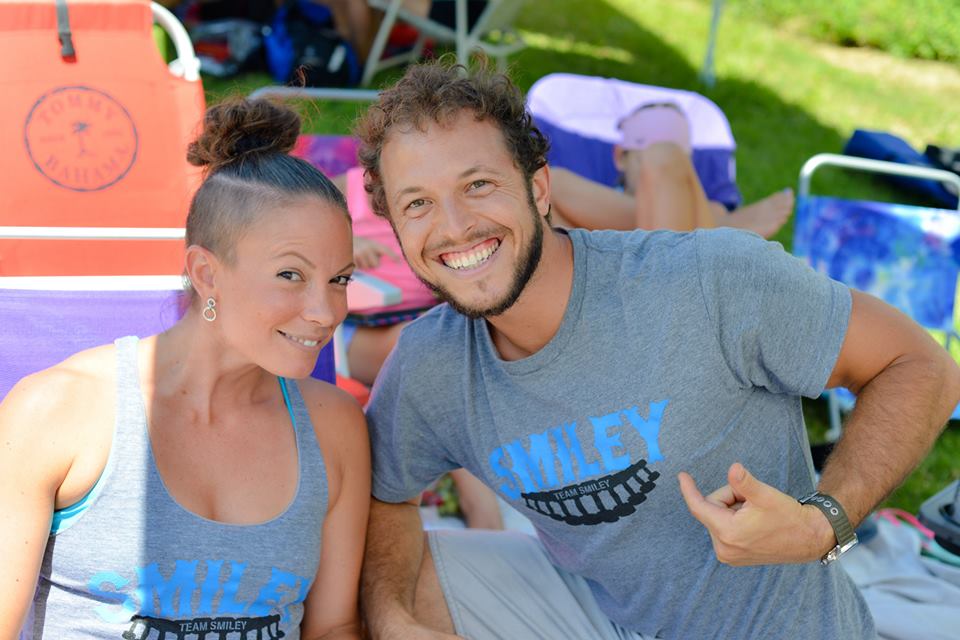 Miiiiiiiiiiike!!!!
I'm afraid it is time… Aaron and I are moving up to San Jose within the next month! Between traveling (like, up to SJ to try to find a place – it's fucking impossible to search online!), packing and playing over the next couple of weeks, I'm going to ask that you cancel my membership at this time. God it feels weird to say that.
Even though I have gone through phases of attending Precision regularly and times where I have put my focus elsewhere, I have always felt such a strong tie to the gym and its members. It's crazy – as an employee of the bike shop where I work, I was actually offered a FREE membership at a box super close to my apartment in Canoga Park. It never even crossed my mind to go for it… I would rather drive out to Agoura and pay for a membership to Precision because of the coaches and community. I remember my first class with Katie coaching. It was a freezing cold December morning in 2012 and we had rope climbs of all things in the WOD – I should say I… it was just me, Katie and those freaking ropes. I couldn't even get close to climbing the rope, my hands were absolutely raw and killing me from trying, but I knew I was going to be coming back… like, a lot.
Heck, thanks to feeling totally intimidated during 13.1, I met me dream dude;) Did you know he thought I was hitting on him when I was actually just panicked about how to warm up and feeling lost on my first Sunday ever at the box (big change from weekdays at 7 lol)? He would later go on to say, "You didn't know what you were doing, so you walked up to the skinniest guy at the gym??" hahahaha. no ulterior motives there – he was literally just the closest person to me who wasn't busy at the moment. Pretty lucky timing I'd say!
The biggest rock and support throughout my mornings at Precision has been Hunter. I don't know if he realizes what a phenomenal coach he is. Even with pursuing his goals of becoming a Police Officer, I just know he is going to end up teaching and coaching people wherever he finds himself. He is exceptionally patient and has the uncanny ability to reframe and reword instructions, technique and motivation for each individual athlete. I've seen him work with people on their very first day and athletes who represent Precision at the Games, and he nails it every time. He is approachable while being a pretty tremendous athlete himself, and he never takes things- or himself- too seriously.
You have done an incredible job attracting special people to Precision – staff and members. The gym feels like a family, and nurtures great athletes and individuals. It has meant a lot to me -and I know it does to the rest of your members- that you are so accessible. You are always just a fb message, text or email away despite your insanely packed schedule and life. The attention, advice and encouragement you so freely give to your athletes makes a difference in their lives and separates Precision from the other countless gyms out there.
Thank you thank you thank you for everything you have done (and that which you don't realize you have done!) over the past …dang, 20 months. I plan on popping in next week some time just to thank Hunter. Hopefully you happen to be there too, but if not… I know we'll see each other somewhere along the way… back at precision during a visit home, family party… you know!
Thanks again and XOXOXOXO!
Sabrina
---
WARM
500 M. Row
2 Rounds
10 Inch Worms
10 Scorpions
10 Good Mornings
20 Sec. Handstand Hold
SKILL:
EMOM 6
2-3 Strict HSPU
LIFT:
Dead Lift
2 @ 75%
2 @ 85%
2 @ 90%
2 @ 95%
WOD: (Compare to 6/6/14)
"Diane" (TEST)
21-15-9
DL (225/155) (205/135) (185/125) (155/105)
HSPU
POST WOD:
Roll and Mobilize