This weekend is the CrossFit Games So. Cal Regional Qualifier. Our team of athletes have been extremely dedicated training hard towards a big showing. For those of you familiar with our team you will notice one important person will be missing, yet again from this years competition. That person is my beautiful wife Emalee. Upon being cleared to workout fter giving birth to our boy Daniel, Emalee started training diligently to make it back in time for this years competition to be a part of the team. She competed at the WOD GEAR TEAM COMP just 3 months after giving birth surprising many of us including herself with her performance. Then decided to team up with me for WOD WARS a few months later. We did not have high expectations just looking to have fun doing something together. That lasted until the first wod when we completed one of the fastest times of the day. We finished 4th overall and I heard many friends, family, and fellow crossfitters exclaim that yes, Em was back!
That being said a few months ago Em's training began to slow down. She began to find herself more fatigued than usual even getting sick at times. She began to slow down not being able to keep up with the other girls as easily. My brother and I started getting on her about it, we're still her coach's after all. Then a few weeks ago when I started to get on her again about taking yet another rest day. Em hit me with the news, I AM PREGNANT! Yes, I slightly fainted at this and new that my life was about to change again. We confirmed everything with our doctor finding out that Em is indeed 10 weeks pregnant! Although, the news was shocking and we can't imagine how we can possibly love another child as much as we love our baby boy. We are excited to make this announcement and become parents for a second time in 2 years. We wanted twins the first time around. Guess we will settle for some "irish ones" as they call it. To the best WOD ever… parenthood!!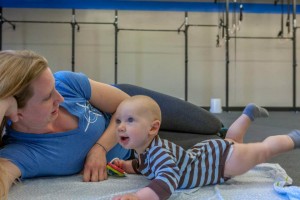 Little D at 7 Months
After the Grand Opening Wod!
🙁 Sad face it's the last wod we'll do together for a while.
WARM UP:
3 Rounds
10 Pass Throughs
10 Back Squats
5 Inch Worms
10 Lunges
SKILL:
Hand Stand Walk for 7 Min.
*HAVE FUN!!
WOD:
3 Rounds
500 M. Row
21 Laterral Hop Burpee's
REST 3 MIN.
Then:
50 KBS (53/35) (44/26) (35/20)
1000M. Run
*Record total time including rest
POST WOD:
Coach's Stretch