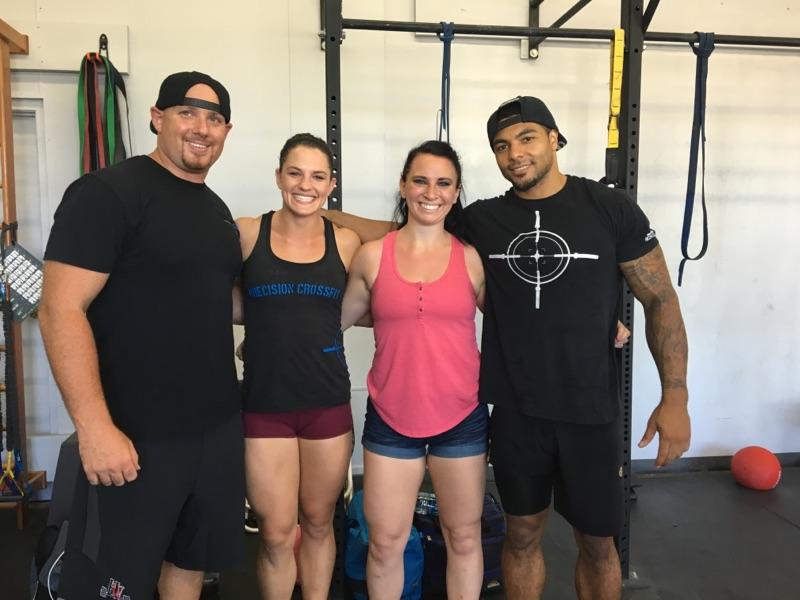 When I sat down with the Team Precision athletes at the end of last season, there were a few changes I wanted to see in prep for 2017. One of the most important things was getting them out of their comfort zones. I wanted them to compete individually more, to do competitions outside the confines of Precision CrossFit and our programming. I wanted them travel to compete in order to compete against those that they normally would not see except during the CrossFit Games season. However, I realized quickly on Saturday morning that this was as much about me getting out of my comfort zone as them. A few things did not go our way. Although I have a strong name in CrossFit and the Precision athletes have great reputations, the coordinators of the event did not care and ran their event as they saw fit. Many of their decisions pissed me off. Some of the things that were said angered me greatly. However, they were not malicious. I found myself taking things too personally because as a coach I fight for my athletes. I'm a vicious competitor and I know it. The Code 3 crew ran a fantastic event and did a phenomenal job of getting all of us out of our comfort zones! They did such a good job that I realized that I too was out of mine. To be honest, I did not think I needed this… but it was an awesome growth experience. 
The competition at the Beach Cities Battle was the fiercest it has been in years. Couple this with the brutal well-thought-out programming of Daniel Wu and Marc Sobremesana, and you have a competition worthy of the best. The fittest, most mentally strong athletes were going to podium at this event. They brought to light the game within the game that I have only experienced at the Regional and Games level of CrossFit. A very impressive and respectful feat. This is why when all 3 of our athletes made the podium, I was prouder than usual. Kristen Seckar took 2nd place in her first ever individual competition, losing to an individual Regional athlete by only a few points. Daimino Stewart finished 3rd in a back and forth battle with several lead changes that lasted throughout the whole weekend. The 3 athletes that made the Advanced Men's podium were all impressive and incredibly gifted CrossFitters. Alix Furgang finished in a 3 way tie for 2nd that had several photo finishes. The battle in the Intermediate Women's division was by far the closest of all the divisions. With one more top 3 finish out of the 5 scored events, Alix would have found herself on the podium. However, the tiebreaker put her 4th overall. But her points and effort put her 2nd and I'm very proud of that. She earned it and should own it.
I could not be more proud of these three athletes. Well done to Kristen, D, and Alix. Way to represent the Wall of Blue. We're all very proud. Keep going outside that comfort zone. Well done!
Fitness-Strength-Community
---
WARM UP:
10 Y's, T's, W's
10 Reverse Flys
10 Face Pulls
Then:
3 Rounds
10 Pass Throughs
10 Good Morning's
10 Clean Extensions
10 Clean Pulls
10 Front Squats 
10 Jerks
Then:
Shoulder & Hip Mobility
SKILL:
EMOM 8
ODD: 
ADV: 1 Muscle Up + 9 Kipping Ring Dips 
INT: 2 Muscle Up Transitions + 3 Ring Dips 
BEG: 10 Banded Tricep Extensions 
EVEN: 20 Hollow Rocks 
LIFT:
Clean + Jerk
1 + 2 @ 65%
1 + 2 @ 70%
1 + 2 x 3 @ 75%
*Focus on positioning! Knee's out on first pull in all movements!!
WOD:
"PHOTOG"
10 Rounds
3 HSPU
3 Clean & Jerk (185/125) (165/115) (155/105) (135/95)
3 Muscle Ups 
*Adv. 6″ Deficit on HSPU
**Sub. MU for Burpee C2B Pull Ups.
POST WOD:
2 Rounds
10 Y's, T's, W's
10 Reverse Flys
10 Face Pulls
Then:
Shoulder Mobility