How awesome is Coach Mike! I met Mike just over a year ago. I had been doing CrossFit for about 6 months and loved it but I wasn't improving at the rate I had hoped. I used to do my WOD's and watch him coach his athletes and I saw them improving every day. Exactly 1 year ago I asked if he would coach me and that's when I really started learning CrossFit.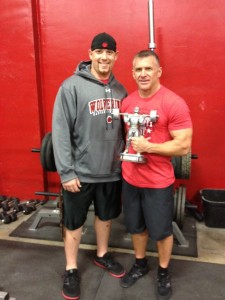 Coach Mike has taught me so much in the last 12 months. I had zero experience in Olympic lifting prior to being coached by Mike. He has taught me more about lifting than anyone prior. I have improved in all areas and I continue to see results from his programming and coaching.
I am not the only one who has benefited. Each and every member of Precision benefits from his knowledge and experience every day. In case you didn't know, Coach Mike does all the programming for Precision. And yes, there is a method to his madness. I used to question and even doubt his methods but I soon learned that he knows what he's doing and now I just do what I'm told.
Coach Mike has the knowledge and experience to guild you in the right direction for improving your fitness in all areas. More importantly, he has the ability to get the most out of his athletes. I don't think our members truly understand the amount of effort and passion that Mike puts in to his programming and coaching.
I have truly enjoyed being coached, yelled at, encouraged and educated by Coach Mike. More importantly, I have enjoyed our friendship and even though I am almost old enough to be his father, I, like most of you, are constantly looking to make him proud.
Thanks Coach Mike. You are the heart and soul of Precision CrossFit.