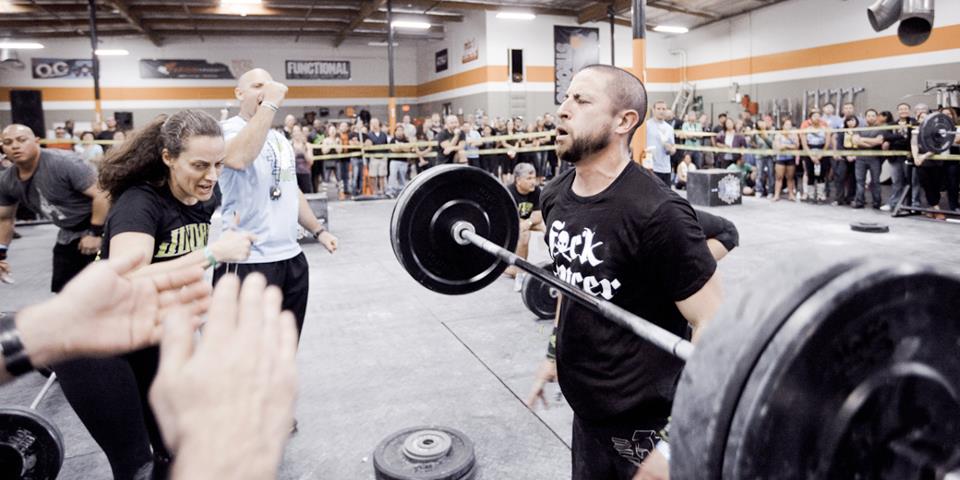 Coaching is something that I take very seriously at Precision CrossFit. Other than the fact that I absolutely love it, I feel it is what makes Precision a special place. Over the last several weekends I attended three competitions, two of which I ran, and one that I just attended as a coach only. One of the things that I noticed was the amount athlete's competing that did not have a coach present. I know some athletes chose to have coaches these days, and some do not. But in all honesty, as a box owner, shouldn't you be at an event to at least support an athlete that is representing your gym? Even if you absolutely cannot make it, shouldn't you at least send someone to represent you? I do not know, maybe it is just me. Maybe it was the 6 years I spent coaching college football that engraved this thought in my mind. I mean, if I am going to spend days, week's, month's and maybe even year's preparing an athlete for competition shouldn't I show up to the game? I mean you have to know as a box owner if you have athletes competing. For Pete's sake, you normally have to register for an event several months ahead of time. I was shocked by how many box owners were not in attendance at the competition's I was at. I was at a local competition last weekend and saw a ton of local boxes present, but the owners of these boxes where nowhere in sight the entire day. I am sorry but as an athlete I expect my coach to be there to support me. Sure, I understand that life gets in the way sometimes so it cannot always happen. But it should not be regular occurrence. I was at a box before Precision where the owner, who I considered my coach, never showed up to anything. My brother and I would get out there compete out hearts out repping our home box and he was never present. At first it was like, ok well he will be at the next one, and then it became one excuse after the other until we realized he just did not care. I mean he even missed Regional's, the biggest competition of the year where the sole focus representing one's colors!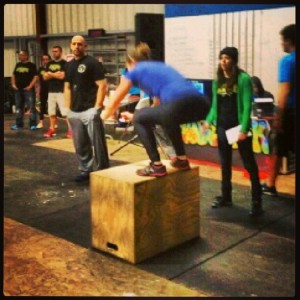 I always make the time to make it out to my athlete's event's to support them. They are representing me, they are wearing my colors. Their shirt says Precision CrossFit down the front, and quotes like "Together we are One" or "Fitness-Strength-Community" are on the back. What kind of a hypocrite would I be if I did not show up to support them? Being a coach is my life. It is what I always wanted to be when I grew up, ask my parents, haha. I live and breathe it. I love when an athlete achieves a goal they previously thought to be unattainable. I get goose bumps watching them compete representing proudly for themselves, their family, their gym, and their coach. I have seriously been flushed with overwhelming emotion, at times, watching an athlete do something they never thought possible in competition. Heck, I had a few of these moments this month. Liz jumping into the advanced division at the "WODstock" event, and holding her own against some of the best female crossfitters on the planet was insane. Crystal Dimond hitting not just one set of 105lb front squats, but two at the "Winter Shakedown" was bad ass, and knowing it was her PR a week earlier made it even sweater. My friend, Jose Gutierrez, who beat cancer and made the "Winter Shakedown" his first comp back, was uplifting. Seeing Marty Yarnell dig deep for 49 KB Swings at the end of the workout at the "St. Valentine's Day Massacre" was unreal. Greg Smiley and Deborah Haley throwing down and beating athletes half their age was special. Juan and Angie Pena claiming third place at the "St. Valentine's Day Massacre," and putting it all on the line in floater wod was inspiring. There were so many other amazing moments. To think that I would have missed them is a crime. Not on my watch.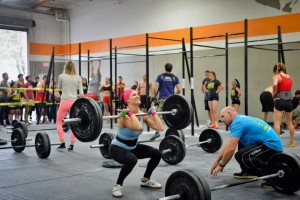 Fitness-Strength-Community
WARM UP:
4 x 250 M. Row
* Work to Sprint
Then:
5 Min. of Hip Mobility
LIFT:
Front Squat
3 @ 85%
2 @ 90%
1 @ 95%
1 @ MAX
1 @ MAX
1 @ MAX
*PR!!
WOD: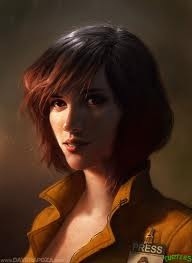 "APRIL O'NEAL"
4 Rounds
400 M. Run
20 Ground to Over Head (95/65) (75/55) (65/45) (55/35)
20 Wall Ball (20/16) (16/14) (14/10) (10/6)
POST WOD:
Shoulder Mobility