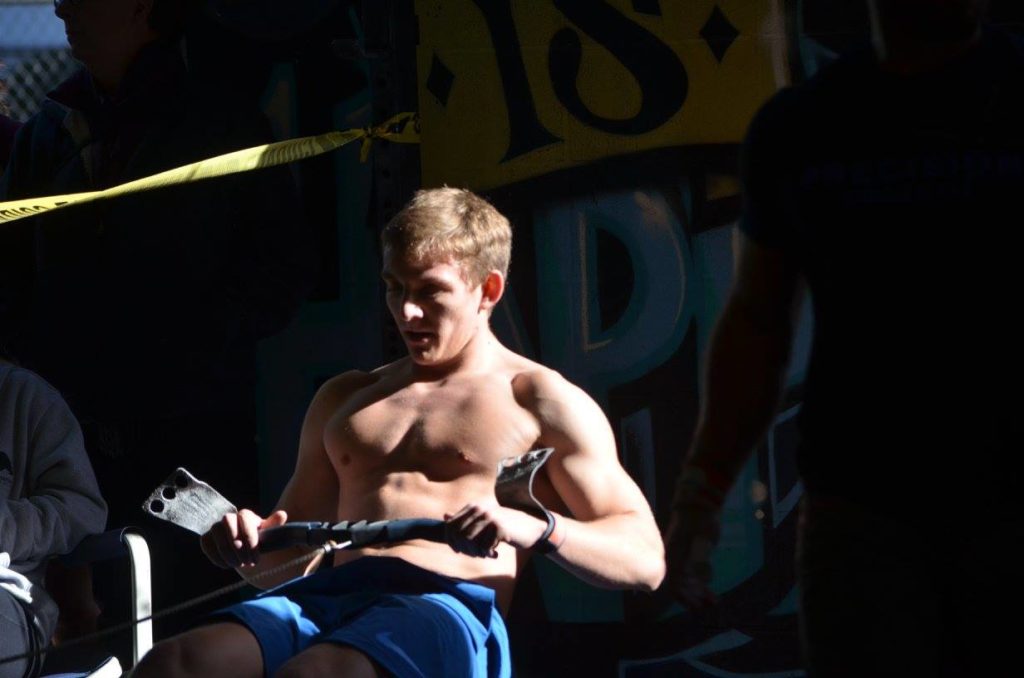 Since announcement of the beginning of the Open along with the various rules changes I have been bombarded with questions, and doubts. Heck, even a few of our coaches have shown a lack of courage. I have heard: "Can we actually qualify a team?" "It is going to be so hard with all the super teams." "The new region blows!" "How are you going to pick the team?" All this sounds like to me is self defeat, and frankly… I have no time for it. If you want to accomplish something then nothing should stand in your way. Rule changes should not matter. Region changes should not matter. What about the Super Teams? We are a damn super team! We have made every Regional since 2012 and have finished top 7 in our Region every year out of the Open. It is not because we are better than everyone else. It is because we mix intellect with ability. I tell our athletes exactly what they need to do to qualify, and they find a way to do exactly that. What I hear around me is a bunch of glass half empty, half full talk. I don't work that way. I say shatter the freaking glass and make your own path. Conforming to self doubts and listening those that doubt around you will always lead to ultimate failure. Anyone that knows me well know's I don't like to fail! So the way I see it is you are either a believer or your not. You want to accomplish something then don't let anything stop you. If you do fail try again… and again. Adjust your plan and change your strategy… but try. If it still does not work out and you are all out of try's… then blaze a new path. However, know that you did everything to accomplish what you wanted. Negative minded people like to say they are being "realistic". There is nothing more sad than quitting and using the excuse that you are just being "real". And… I do not mean physically. You can quit emotionally as well. You can say you're in when your heart clearly is out. Now, I am not calling anyone out here. I am just speaking hypothetically. But if this blog does speak to you good or bad. Take a good look in the mirror and ask… why? Why can't I believe? or Why do I have a reason not to? I am leading TEAM PRECISION into this years Open with "Gun's blazing". Do you want to be a part of what we're going to accomplish this year? Do you want to try? I don't know what the word "quit" means. I know Precision is ready for this years Open. Wall of Blue I ask if you're ready? I came here to kick ass and chew bubble gum… and I am all out of bubble gum. Sign up and let's go!!
Fitness – Strength – Community
---
WARM UP:
400 M. Run or Row
10 Y's, T's, & W's
10 Reverse Fly's
2 Rounds
10 Lunge w/ Pass Through
10 Good Mornings
10 Front Squats
10 Clean Extensions
10 Clean Pulls
Then:
Mobility
---
WIN
SKILL:
EMOM 8
3 HSPU + 10 Strict Press w/ a PVC
LIFT:
Full Clean & Jerk
10 x 1
*Build to a heavy single.
WOD:
"SECTIONALS 2"
6 Rounds (10 Min. Cap)
8 Squat Cleans (155/105) (135/95)
8 HSPU
*Sub. Box Piked HSPU Accordingly.
---
FIT
SKILL:
6 Rounds (30 Sec. On / :30 Sec. Off)
Front Plank
LIFT:
5 Rounds
10 Hammer Grip DB Bench Press
10 DB RDL
WOD:
For Time: (10 Min. Cap)
100 Push Ups
100 Sit Ups
100 Air Squats