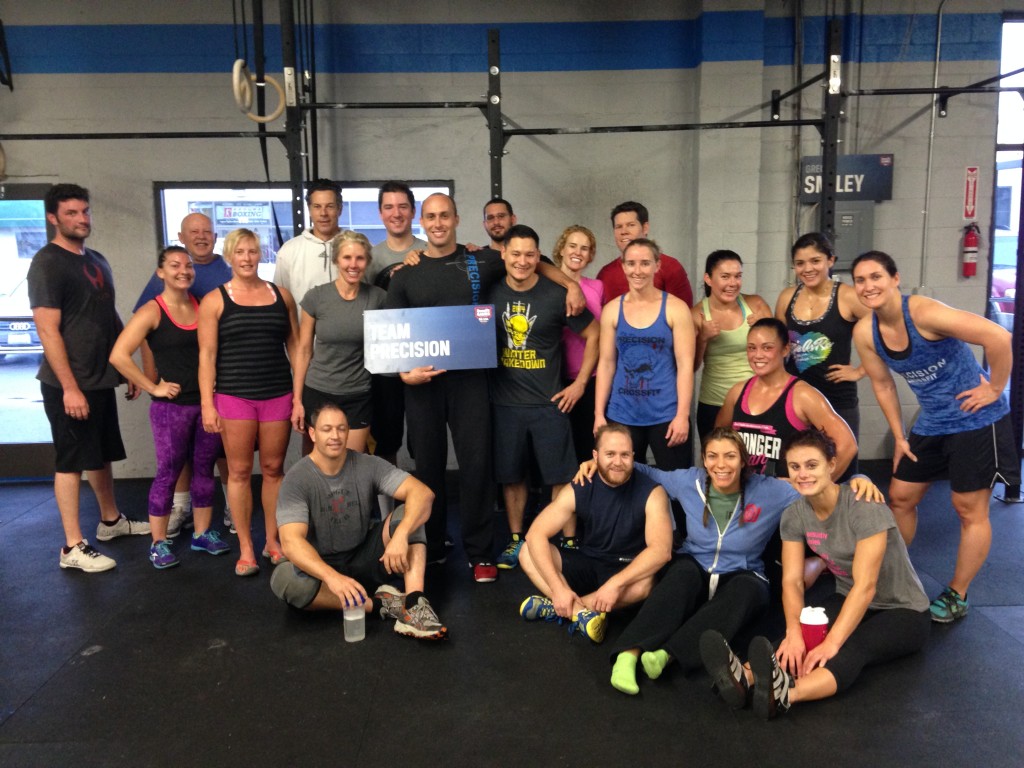 To my crazy Precision Family:
As I sit here thinking of what to say, I am overwhelmed with amazing memories, funny stories, and feelings of gratitude. I'll do my best to keep this brief, but it's been almost three years for goodness sakes… so bare with me.
To think that I stepped foot into Precision Crossfit nearly three years ago, just looking for a Crossfit gym that offered good coaching, structure, and a solid community is funny. It's funny because what Precision is, what it provides, and what it has taught me is so far beyond anything that I could have ever imagined.
Yes, Precision does have the awesome surface Crossfit stuff that would make anyone stoked to be a part of the gym; exceptional coaches, legit owners, smart programming from evil scientists that make you laugh and cry (sometimes during the same WOD), fire breathing athletes, welcoming facility, friendly environment, bad ass apparel, protein, fish oil, and "Hip Hop BBQ" radio blasting from the speakers. However, it goes a lot deeper than that for me. I found mentors. I found lifelong friends. I found a family. I found a home.
For nearly the last 3 years, my day started with a cup of coffee and Precision Crossfit. I won't lie, some days we rough. BUT, no matter the mood, physical health, or mental state… the second that you started talking / warming up, jokes started cracking, and bars started lifting… nothing else mattered except for what was in front of me… my Precision family.
I had front row seats to people transforming themselves, inside AND out. Sure it was frickin awesome to see people loose weight and gain tone and definition throughout their bodies. However, to see people break out of their comfort zone, make friends, establish relationships, boost their self esteem, accomplish feats of strength after consistently practicing for several months that were never thought possible, and be present in that atmosphere day in and day out… its indescribable.
Relationships were built, obstacles were overcome, muscles grew stronger,  families bonded, jeans were fitting tighter (stronger butts and thighs), paleo-ish baked goods were left out for me to consume… The list goes on and on… and I am beyond privileged and overwhelmed with gratitude to have been a part of it all.
I also learned something that goes beyond Crossfit movements, Olympic lifting, and gymnastics. And no… it wasn't how to mobilize my joints like an insane supple leopard (you're welcome), how to brew your coffee with grass fed butter, or even how to customize your latest pair of Reebok Nanos. What I learned was this… life is way too short to take yourself too serious. When it starts to get a little intense… take a second, relax, and just do less (I had to put at least one inside joke into this). I don't know where I would be right now if it weren't for all of you.
Mike and Greg, I will be forever grateful for the opportunity you gave me to be a coach in your gym. I am beyond lucky to have both of you as friends and mentors. From the bottom of my heart, thank you.
Me and my family's' lives are better, my future is brighter, and my outlook on what it means to be fit, healthy, and confident will be forever changed for the better because of Precision Crossfit and you- the members of Precision Crossfit- that I've grown to know and love.
See you later guys. It's been and honor and a privilege to have been your coach. I will miss all of your faces and sweaty / shirtless / toned bodies. Stay strong. Stay consistent. Keep each other accountable l. And please, remember for me… Have fun. It's just competitive exercise 🙂
Your Coach,
Hunter
---
WARM UP:
500 M. Row
Then:
2 Rounds
10 Pass Throughs
10 OHS
10 Good Mornings
Then:
Shoulder Mobility
SKILL:
3 x 10 Weighted Push Ups
*Have a partner put weight on your back or wear a vest.
Pair With 
3 x 20 Hollow Rock Sit Ups
LIFT:
Back Squat
3 @ 80%
2 @ 90%
1 @ 95%
*2 Rounds 3-2-1, then 3-2-1
WOD:
"ROW-PUSH-SIT"
5 Rounds
500 M.  Row
20 Push Ups
20 Sit Ups
POST WOD:
Roll & Mobilize