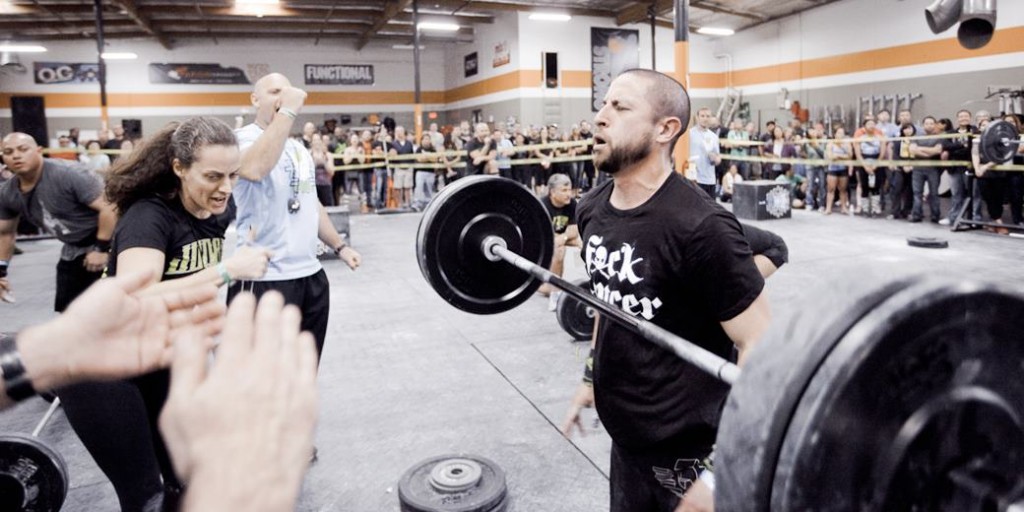 Where do I start with a guy who has meant so much to me over the years? I met Jose eight years through a colleague at Harvard-Westlake. He wanted to meet the strength coach who was into CrossFit in order to try it out for himself. After a tough first go around, Jose was destroyed. In fact he was so wrecked that he went home early from work that day. I remember thinking this guy would never do CrossFit again. Then a few months later I saw him on campus and found out that he had joined Brick CrossFit… and was loving it. We would see each other often in passing at various events and would always be very cordial and happy to see each other. Then a time went by where I noticed that I had not seen him in a very long while. He was not at the usual CrossFit events and I had not seen him on campus. Then at a competition in Torrence during the summer months, I finally saw him again. As he approached my tent to say hello, he looked noticeably different. He had lost a ton of weight and his coloring was palishly yellow. I knew something was wrong. Then… for the first time ever, we spoke as coach and athlete–the first of many conversations that would change both mine and his life forever.
I am a firm believer that people enter each other's lives for a reason. This day Jose entered my life to challenge me to help him beat cancer. I came into his life to give him hope and support. To tell him he could and that he would. Eventually, it became about more than that. It became about friendship, love, and respect. It became about bettering ourselves through experiences we would both have together as friends, in the constant positive support of each other. He showed me what true strength really looked like. I showed him what the word perseverance meant.
In the years that have passed, Jose is now a cancer survivor. He gives me a ton of credit for helping him beat cancer, and for making him the strongest he has ever been. But in reality all I did was do what any friend would do. I gave him hope, I layed out a path, and in return Jose chose to walk it. I read something earlier that I really loved that rings true for my relationship with all my athletes. I get a ton of credit for my programming. In fact, Jose is the man that coined the term Tromello Programming, which has actually changed my life significantly. So much in fact that I chose to start a separate programming business and name it… Tromello Programming. This business's success is part of the reason that I was able to leave Harvard-Westlake and dedicate myself full time to my true passion. If not for Jose, his tenacity, and his hashtag, I don't know if this day would of come. It is not programming that makes athletes do spectacular things though–it is the relationship that that athlete has with his coach, that bond of trust and compassion that can't be broken. I choose to have meaningful relationships with my athletes. In return they thrive, and in Jose's case they survive, overcoming a significant obstacle and changing two lives forever.
Today, Jose is still one of my very best friends. He is now a member of Precision and he, along with his girlfriend Deanna, has become a massive part of the Wall of Blue. His personality is a huge reason why so many love our community. He is a staple a the gym, a face I see everyday, a reminder of what it is like to overcome adversity. He is a someone that I truly care about. Today, I want to wish him the happiest of birthdays and many more to come. I remember the day when a next birthday seemed bleak. Enjoy all those that love you, my friend. I sure do.
Fitness – Strength – Community
---
ENDURANCE CLUB
This weekend we are meeting at PRECISION!
We will begin our group warm up promptly at 9:00 am! Make sure you eat a good breakfast; don't skip eating. Bring water and a possible snack if you tend to get hungry. If you have a pace watch, wear it. The class will end around 10-10:30 am.
WOD:
Come Find Out