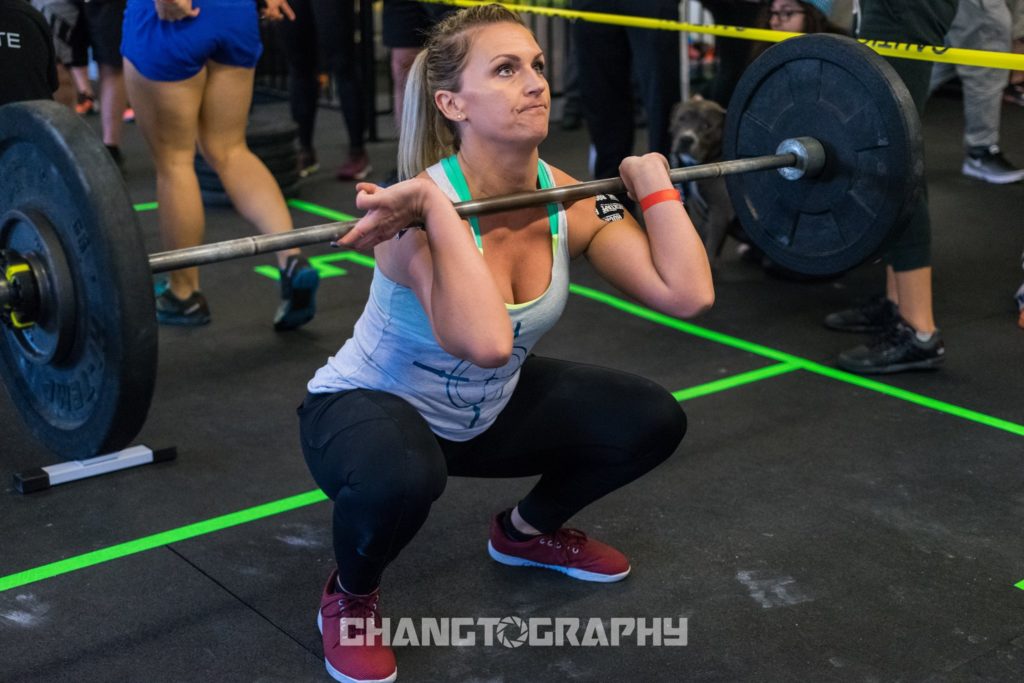 A very happy birthday to Whitney DiCarlo! Whitney started her CrossFit journey with us just about a year ago and has vastly improved. In a gym full of strong female athletes, Whitney works equally as hard towards her goals. She is extremely disciplined and has a tremendous work ethic. This is something that I am sure she passes on to her children being the fantastic Mother that she is. I have seen Whitney compete quite a few times now. My favorite quality in any athlete is their ability to leave it all on the floor, and have fun in the process. This is Whitney. No matter what is going on in her life. No matter how hard the workout is. No matter how steep the competition is. She always has a smile on her face, and finds the good in every day. I have seen her go through rough times but regardless of what has transpired. She is tremendous as dusting herself off, and attacking the next day. This is a very envious trait and something I know many of us wish that we could mimic. Since Whitney's arrival at Precision she has be down to do whatever she can for the community and I love her for it. Her vibrant personality is contagious, making her an instant pleasure to be around. Have a very special day Precision girl. Enjoy!
Fitness – Strength – Community
---
WARM UP:
400 M. Run or Row
2 Rounds
10 Pass Throughs
10 Good Mornings
10 Front Squats
10 Push Press
5 Push Jerk + 5 Split Jerk
Then:
Mobility
SKILL:
3 Rounds (At a walking pace)
80 Ft. DB Single Arm OH Walk (Switch Arms at 40 Ft.)
20 Weighted V-Ups
8e DB Row
LIFT:
2 Rounds
Strict Press
R1: 7 @ 60% / R2: 7 @ 70%
Push Press
R1: 5 @ 65% / R2: 5 @ 75%
Push Jerk
R1: 3 @ 70% / R2: 3 @ 80%
WOD:
"DEATH RACE"
For Time: (15 Min. Cap)
2K Row
*EMOM death by S20 (135/95) (115/75) (95/65) (75/55)
**Score = total time or meters remaining once you can't complete the S2O reps required in the min.
(Ex: Min. 1=1, Min. 2=2, Min. 3=3, etc.)
POST WOD:
2 Rounds
10 Y's, T's, & W's
10 Reverse Fly's
10 Face Pulls