HAPPY HALLOWEEN FROM ALL US AT PRECISION CROSSFIT!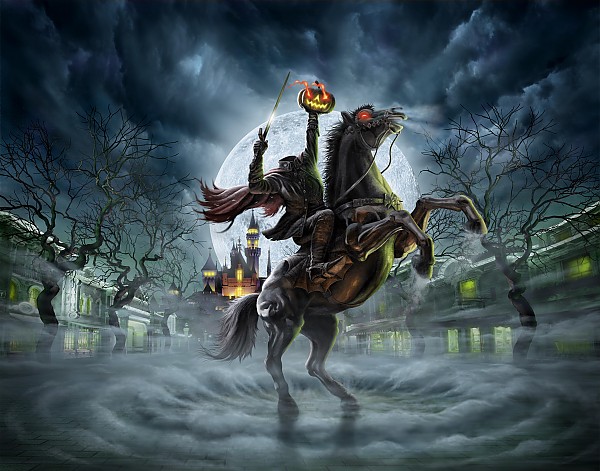 The Irish dullahan or dulachán ("dark man") is a headless demon, usually riding a black horse and carrying his head under his inner lower thigh (or holding it high to see at great distance). He wields a whip made from a human corpse's spine. When the dullahan stops riding, a death occurs. The dullahan calls out a name, at which point the named person immediately dies. In another version, he is the headless driver of a black carriage. A similar figure, the gan ceann ("without a head"), can be frightened away by wearing a gold object or putting one in his path.
The most prominent Scottish tale of the headless horseman concerns a man named Ewen decapitated in a clan battle at Glen Cainnir on the Isle of Mull. The battle denied him any chance to be a chieftain, and both he and his horse are headless in accounts of his haunting of the area.
-Wikipedia
---
WARM UP:
400 M. Row or Run
Then:
10 Y's, T's, & W's
10 Reverse Fly's
Then:
3 Rounds
10 Pass Through's
10 Good Morning's
10 Snatch Extensions
10 Snatch Pulls
10 OHS
Then:
Hip & Shoulder Mobility
SKILL:
3 x :30 Sec. L Sit Hold
Pair With:
3 x 8e O.H. Walking Lunges (Your Choice)
LIFT:
Snatch
2 x 3 @ 60%
3 @ 65%
3 @ 70%
2 @ 75%
WOD:
"THE HEADLESS HORSEMAN"
10 Rounds
3 Bar Muscle Ups
1 Snatch @ 75%
*Sub. Bar MU for Jumping Bar MU or Burpee Pull Up's
POST WOD:
2 rounds
10 Y's, T's, & W's
10 Reverse Fly's
10 Face Pulls
Then:
Mobilize & Stretch