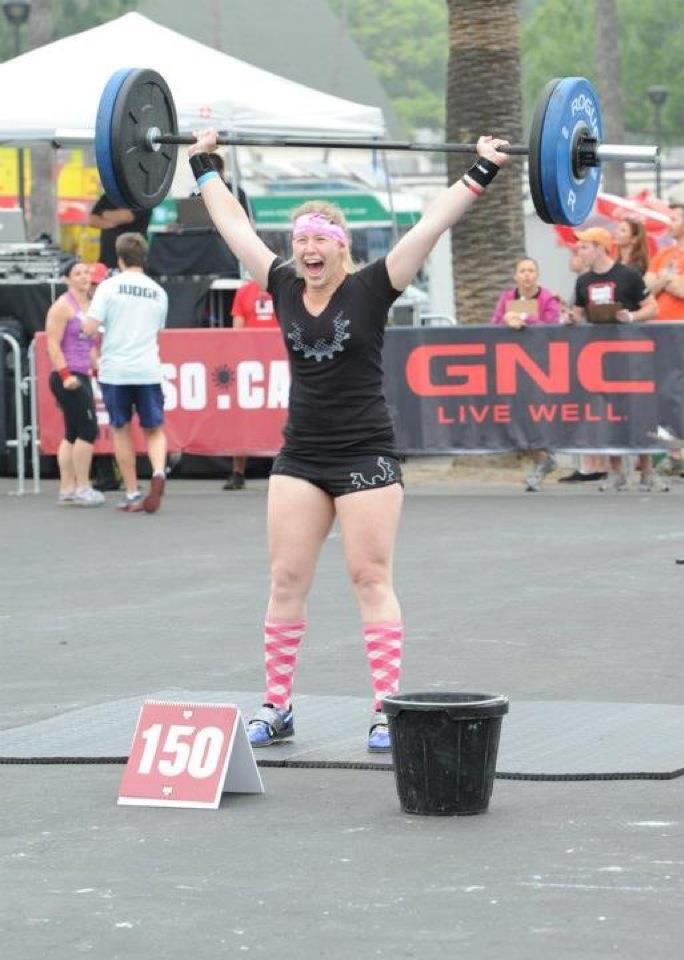 Precision CrossFit was given the opportunity for our lifters to take part in a closed USAW Sanctioned Olympic Lifting meet at Axiom CrossFit, in Ranch Cucamonga. Closed, means the meet was by invite only and not open to the public. It was the perfect situation and environment for two of our lifters, Crystal Riggs and Robert Theofanis to take part in their first Oly meet ever. For Crystal there was a ton at stake with a chance to qualify for the USA Open in November on the line. For Rob it was a casual dress rehearsal for times to come, a chance to see where he was at and to learn about himself in his new chosen sport of Olympic weightlifting.
The women went first as Crystal having the highest opening totals was forced to lift last, on her own following herself. Definitely a stressful experience for a first timer, but like always Crystal took it in stride and always with a smile. Although, she was extremely nervous she had been in this type of situation before as our Regional team had called upon her in the Snatch ladder this past So Cal Regional Games. We needed her to run through the ladder and to go well beyond her current PR for us to have a chance at the finals. She did this and more PR'ing by 30lbs! In that moment, I knew she had come into her own as a competitor with a bright future ahead. Flash-forward to Saturday, here she is again, in a similar situation yet all for herself this time. Having to perform for her team last time, and now only having to perform for herself to accomplish a goal that she had set for herself. Once again she showed what an amazing competitor she is. She handled all her lifts like a pro and impressed many people in the process. She was almost flawless during her Snatch lifts and looked darn right powerful during her Clean & Jerks. She was quick, precise, and looked seasoned. On top of this she accomplished her goal. Needing a 150 kilo combined total, she totaled 153 Kilos qualifying her for the USA Open National Lifting Meet. For those that do not know this is like the CrossFit Regional Games for an Olympic Weightlifter. In addition, what she did not know until after her lifts were over was she had hit these qualifying totals with her opening lifts, something very impressive in the Oly lifting world. I could not be more proud of her as a coach. She is a fierce competitor with a phenominal work ethic deserving of joining her training partners Katie Crowe and Julie Adams at the USA Open!!!!
Up next was Rob, first meet ever and rearing to go. He was always a phenomenal competitor on the football field. I have had the privilege to play with Rob and to coach him on the gridiron throughout his college football career. He always had a phenomenal work ethic to go along with his football talents. Rob came in with no expectations and I think learned a lot from his experience. One he was definitely the strongest guy in the room. However, some more work needs to be done. We totaled a 185lb Snatch and 235lb Clean & Jerk with ease. However, he had the pull of a 225lb Snatch and 300lb Clean. What it came down to on Saturday was conditioning and strength, two things easily attainable for a guy with Rob's work ethic. Although, he may not have hit the numbers he envisioned. He learned what needed to be done and with his work ethic how far he can go! I was very proud of his efforts and honored that he calls Precision CrossFit his home!
Will be posting video of Rob's lifts very soon. For now here are some of Crystal's highlights.
WARM UP:
500 M. Row (Easy)
500 M. Row (Mod.)
500 M. Row (Sprint)
SKILL:
3×5 Hollow Rocks into Superman
LIFT:
Back Squat
2@75%
2@85%
2@95%
3×1 @ MAX
*PR!!
WOD:
"TABATA THIS"
8 ROUNDS: 20 Seconds Per Round, 10 Seconds of Rest Between Each:
-Squats
-Pushups
-Sit Ups
-Pull Ups
*You may only count your lowest score per round.
POST WOD:
Foam Roll