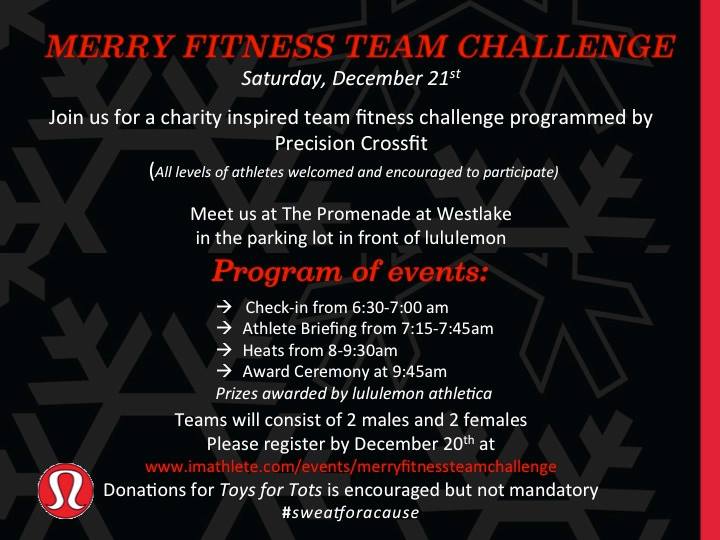 Get your teams of 4 together and register. This is a FREE event and will take the place of our Team WOD for Saturday December 21, 2013. The event is programmed and run by us so you know it will rock! Podium placers will get Lululemon gift cards!!! You know you want your crack at some free swag. Register and have some fun!!
GIVE THE GIFT OF FITNESS GIFT CARDS AVAILABLE!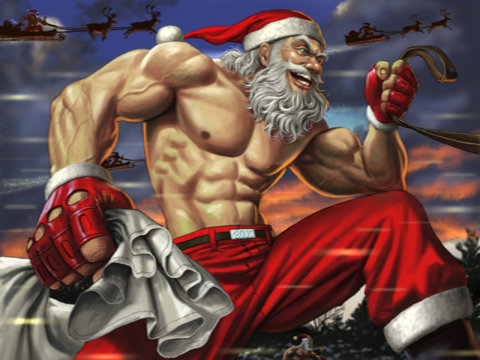 Have someone you have wanted to get into Precision? $50 buys you one month of CrossFit at PC! This is a great Holiday gift and will fit great in that stocking! The month will include our 5 beginner classes which start up again January 6, 2014! Ask inside for details.
WARM UP:
750 M. Row
250 Easy, 250 Mod., 250 Hard
Then:
10 Inch Worms
10 Scorpions
Then:
5 Min. of Hip and Shoulder Mobility
SKILL:
5 Min. of Handstand Push Up Work
-Proper Positioning
-Handstand Lower Downs (Negative)
-Ball Ups
-Kip Ups
*Work your progressions.
LIFT:
Dead Lift (New Max)
2 @ 75%
4 x 3 @ 60% (Touch and G0)
Then:
RDL
3 x 4 @ 85% (1RM Clean)
WOD:
"ST. NICK"
3 Rounds
500M. Row
10 HSPU
Then:
3 Rounds
40 Ft. Front Rack Walking Lunges (135/95) (115/75) (95/65) (75/55)
500M. Row
POST WOD:
Mobilize