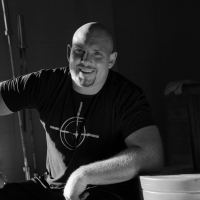 Mike Tromello
FOUNDER, MAT, CSCS, RSCC*D, USAW NATIONAL COACH
Mike, a graduate of Occidental College, spent three years playing for the SCIAC Champion Tigers, graduating with his bachelor's degree in 2005. In the summer of 2005, Mike spent six months playing professionally in Europe for the Gefle Red Devils of Sweden. Mike also served as the defensive coordinator for the organization's prep team, as well as the head strength and conditioning coach.
Upon his return home, Mike went back to Occidental College to complete his master's degree and earn his secondary school teaching credential, which he completed in the spring of 2006. In December of 2006, Mike represented Team USA against Team Canada in a football showdown between the two countries. Between 2005 and 2009, Mike spent five seasons as the strength and conditioning and secondary coach for the Occidental College football team.
In September of 2008, Mike took over as the middle school strength and conditioning coach at Harvard-Westlake School. Here, he was put in charge of the school's developmental strength and conditioning program. For eight years, Mike aided in the school's creation of a vertically-integrated strength program. Within this program students where taught how to build a technical weightlifting base, starting in the seventh grade, that was developed upon over time. Through technical efficiency learned at a young age, students vertically integrated to the high school program where strength was developed further. This program received much acclaim by major strength and conditioning associations, such as the NSCA. It also led Mike to publish a book on the subject matter: "Building the Beast: A comprehensive Guide to Adolescent Strength & Conditioning." In addition to this work with adolescents, Mike also was the Head Strength & Condition Coach for the Varsity Water Polo and Track Teams. By the completion of his tenure at HW, Mike was a part of 2 National and 3 CIF Championship Teams. Mike was also put into the HW Water polo Hall of Fame.
In addition to his work as an elite strength & conditioning coach, Mike is also an accomplished CrossFit and Weightlifting coach. Over the past several years he has coached 8 athletes, all of whom have fared very well, to the national level in Weightlifting: Lindsey Valenzuela (2009 American Open Championships), Crystal Riggs (2012, 13 & 15 American Open Championships, and 2015 & 16 USA Nationals), Katie Crowe-Tromello (2012 & 13 American Open Championships), Chrissy Barron (2015 American Open Championships), Nathan Doud (2015 American Open Championships), Deanna Douglas (2015 & 16 University Nationals), Danielle Marino (2015 & 16 University Nationals), and Evan Hardman (2016 University Nationals). In CrossFit he has coached multiple Games and Regional athletes, such as Bill & James Grundler (2015 & 16 Reebok CrossFit Games), Alison Locke (2015 Reebok CrossFit Games), Dan Wells (2015 Reebok CrossFit Games), Greg Smiley (2013 Reebok CrossFit Games), Chelsey Grigsby (2015 & 16 California Regionals), Katie Crowe (2011,12,13,14, & 15 Southern California & California Regionals), Jessica Goeser (2012,13,14,15 & 16 Southern California & California Regionals), Lindsey Deitsch (2014, 15 & 16 Southern California & California Regionals), and Daimino Stewart (2014, 15 & 16 Southern California & California Regionals), to name a few. In addition, he has coached his gym's team (TEAM PRECISION) to 6 straight Regional appearances.
With over 17 different certifications I feel I bring a lot of experience with me from my background in sports to those looking to get in shape. Being a former collegiate and professional athlete I have had the opportunity to witness the inner workings of some of the elite strength and conditioning programs. I know what it takes for an athlete to accomplish their dreams and hope to pass on the knowledge and work ethic I learned to others. I feel that I'm a great motivator and have the ability to bring the best out of anyone.
Qualifications
MASTERS DEGREE
CERTIFIED STRENGTH AND CONDITIONING SPECIALIST (CSCS)
REGISTERED STRENGTH AND CONDITIONING COACH WITH DISTINCTION(RSCC*D)
USAW NATIONAL COACH
USAW LEVEL 2 COACH
USAW CLUB COACH CERTIFIED
CROSSFIT LEVEL 1 CERTIFIED
AEROBIC AND FITNESS ASSOCIATION OF AMERICA (AFAA) CERTIFIED
CIF COACHING CERTIFIED
CALIFORNIA TEACHING CREDENTIAL
FIRST AID AND CPR CERTIFIED
USAW SPORTS PERFRORMANCE CERTIFIED