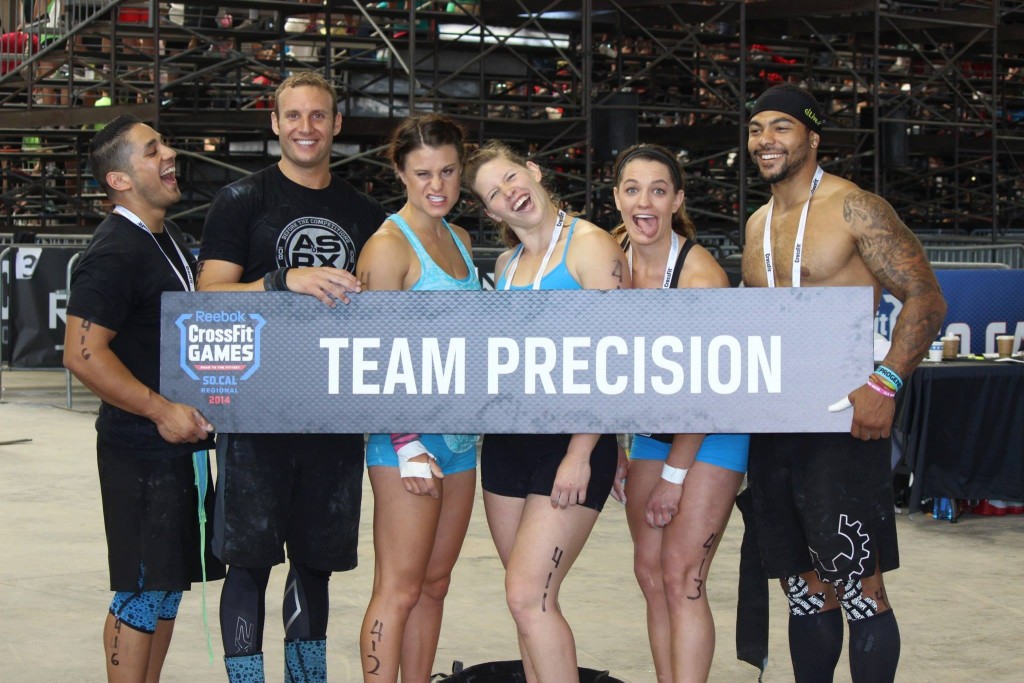 I have been asked by a few people why I do not highlight Jess more for going individual and place more focus on TEAM PRECISION in regards to the California Regional. This is a very good question, and something I think deserves an explanation. It is not that I do not highlight Jess, whom I am extremely proud of, it is that I choose to highlight no one. I consider this years Regional Team, like every year, to be an extension of our gym. Representatives, if you will, to show the world the vast abilities of Precision CrossFit as a whole. I have said in many previous blogs that TEAM PRECISION is made up of all of us. It is not that we frown on individualism; it is just that we want the community of the gym to be the athlete's primary focus. We want them to be strong individual bad asses like Jess who are loved by their community to the point where you will travel in large numbers to cheer your hearts out for them because you love them so much. By putting the name in front of the shirt before the name on the back, one can have great success as an individual athlete, not forgetting the people that supported them and helped get them there. So Jess along with the other 8 athletes competing for Precision CrossFit at Regionals this year make up TEAM PRECISION and I am highlighting them as a whole. It is awesome to see the many people that have begun to show up to practice to train with the team and become more a part of the gym's goal for a successful Regional. The TEAM is really gelling together and have all bought into the big picture of what it means to be on a TEAM. This is something I am extremely proud of. It is something I took away from my college football coach Dale Widolff during the various championships I won with him as both player and coach. He truly believed in the word TEAM and made sure we were all brothers before he ever thought about winning a game. Through these relationships we won championships together–as teammate–and to this day we will do anything to help out one of our own, no matter the distance and no matter how far. Because we are and will always be brothers. This is what Greg and I envision: TEAM PRECISION represents all of Precision CrossFit who train together, bleed together, and most importantly, believe together. 
Fitness – Strength – Community
---
WARM UP:
400 M. Run or Row
3 Rounds
5 Strict Pull Ups
10 Push Ups
15 Air Squats
Then:
Mobilize Hips and Shoulders
SKILL:
EMOM 9
MIN. 1: Max Effort Strict HSPU (ADV. 4″ Deficit)
MIN 2: Max Effort Double Unders
MIN. 3: :30 Sec. Hollow Hold
*Rotate through 3 times.
**Work your HSPU & Double Under positions during Min. 1 and 2.
LIFT:
Back Squat
8 x 2 (Work to a heavy double)
WOD:
"TABATA THIS"
8 Rounds: 20 Seconds Per Round, 10 Seconds of Rest Between Each Movement.
-Squats
-Pushups

-Sit Ups

-Pull Ups
*You may only count your lowest score per round.
POST WOD:
Roll & Stretch