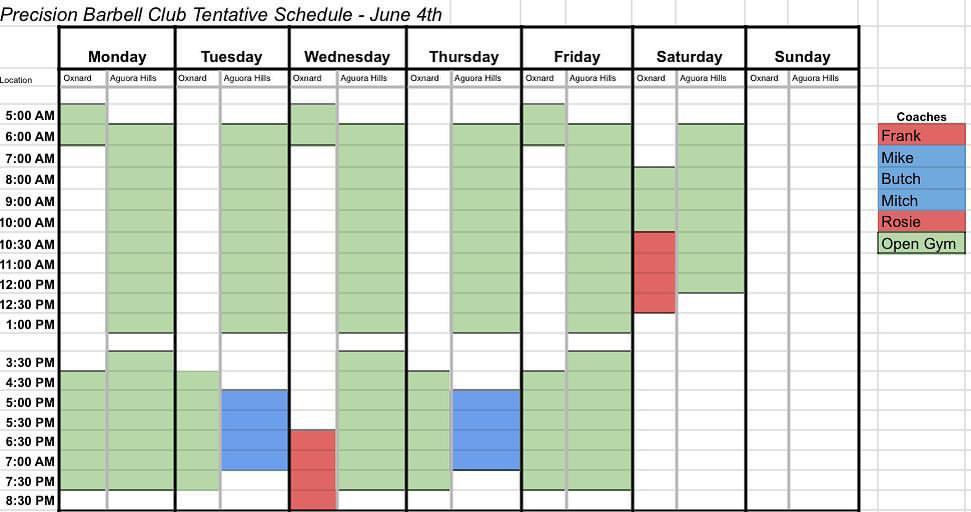 Starting today we will be following this schedule at our Agoura & Oxnard locations! In addition, daily programming will now be included. It will be found here on our Precision blog and on the @precisionbarbellclub Instagram page. On the days in Blue and Red. We will have scheduled class times with coaches present. They will be there to watch your lifts as you go through the programming. We hope you all enjoy this new addition. Take advantage. There is no additional fee!!
Fitness – Strength – Community
---
WARM UP:
400 M. Run or Row
10 Y's, T's, & W's
10 Reverse Fly's
2 Rounds
10 Lunge w/ Pass Through
10 Good Mornings
10 Front Squat
5 Inch Worm
10 Scorpions
---
WIN
SKILL:
EMOM 10
ODD: 30 Sec. of Ring Swings
EVEN: :30 Sec. of Ring Dip Swings
*Work on remaining hollow and getting length in the back swing.
LIFT:
Front Squat
4 @ 65%
4 @ 70%
3 x 4 @ 75%
WOD:
"AMANDA'S TWIN"
For Time:
9-7-5-3
Ring Muscle Up
Thruster (135/95)
*Sub. Ring MU for C2B Pull Up.
---
FIT
SKILL:
EMOM 10
ODD: 8e Goblet Backward Lunge
EVEN: 45 Sec. Front Plank
LIFT:
Front Squat
8 @ 55%
6 @ 60%
3 x 6 @ 65%
WOD:
AMRAP 8
1-2-3-4-5-Etc.
Thruster (95/65)
Bar Lateral Squat Jump