OLY CLUB: 8:30 am
TEAM WOD: 10:00 am
We at Precision CrossFit would like to dedicate tomorrows WOD to Jade and the Hood family. Hopefully having both the Beachside and Precision CrossFit communities together can send an influx of positive thoughts and prayers they're way. Here is to miracles!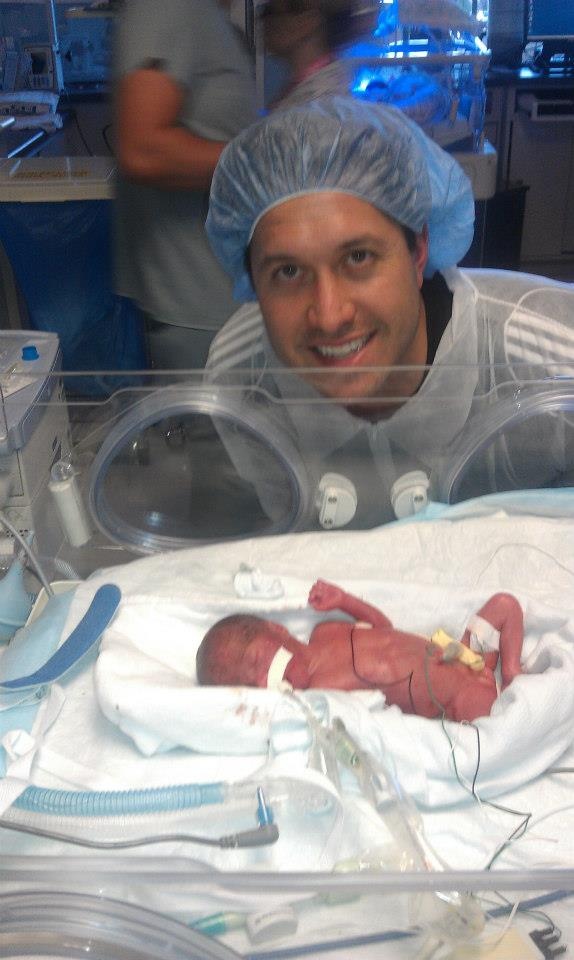 A valued friend and member of our gym is going though more than any of us could imagine. His daughter, Jade was born nearly 4 months early and has been under critical care for almost two months now.. This is a post from him today. Please keep the Hood family in your thoughts. They are an inspiration to us all. Bridgette and Rusty Hood.
Rusty Hood
I must admit that the last two days have been the most stressful in my life. Bridgett and I got a call last night regarding our daughter developing a cyst in her brain that could lead to multiple problems – even quadriplegia (sp?). The doctors wanted to have a meeting with us today. Bridgett did all this research last night and we felt today was the meeting to discuss the end. I think I was the most depressed and beaten down father I could have been. The walk to the hospital floor felt like dead man walking. To our surprise it was a meeting to discuss her overall progress and the main issues. Although we are still in defcon 5, meaning she could go at any minute, the doctor was saying miracles happen all the time. Jade needs a lot of help with her brain healing and growing correctly so she won't be hugely disabled mentally, physically, and emotionally. She also needs a lot of help with her lungs and power prayers and love and miracles. Her kidney needs to heal as well as she has some partial blockage. The doctor doesn't know what is causing it. To say the least, a laundry list of issues, but our biggest concern is her brain and ensuring a good life mentally, physically and emotionally like any other child. Thank you to a client of mine, Tina, that said demand the miracles and let God know and the universe. I'm not one to post a lot, but friends, we could use some miracles and demands from you all to bless Jade so her brain heals itself with the cyst and her lungs and kidneys. Any miracles you can pray for would be great. I seriously thought my post today was the last chapter, which I don't believe in. But we did feel like it was that kind of meeting we were going to walk into. But praise God for helping my daughter to be a fighter. We could also use all of your positive energy for her and even us. We feel a little beaten down so being positive for Jade when were here is tough. Pray and demand miracles please. A miracle of proper brain development, lung growth, and overall healing would be so appreciated. We love you all for following and supporting our family.
WARM UP
Coach's Warmup
WARM UP:
7 Min. to Warm Up Split Snatch
WOD:
THIS ONE'S FOR JADE!
"JADE"
TEAMS OF 4 (One person working at a time)
2 Min. of Max Effort Back Squat (95/65) (75/55) (65/45) (55/35)
Then:
3 Rounds
50 Box Jump Overs (24) (20) (12)
40 Power Split Snatch (95/65) (75/55) (65/45) (55/35)
25 Deficit HSPU
*Guy's must jump completely over the box. Ladies may jump on top and over.
**Knee must touch the ground on Split Snatch.