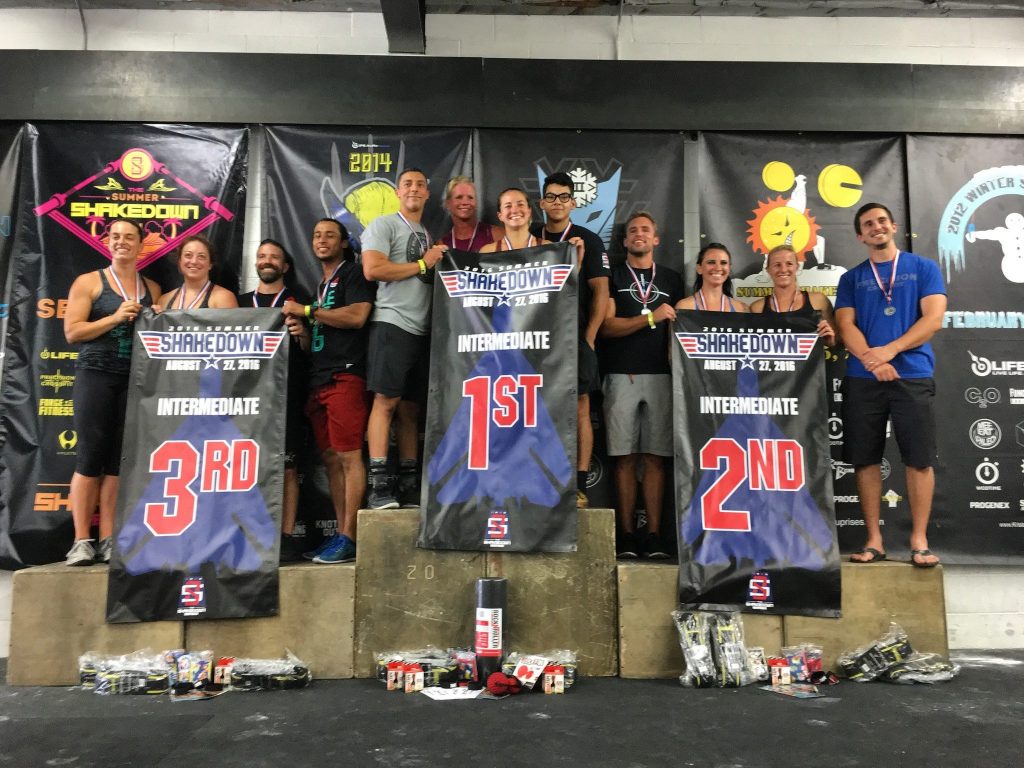 I have now programmed and run 11 Shakedowns and over 20 events in total. In every one of these competitions, Precision has had a team or group of athletes compete. We have done well each time as we continue to hang banners from the ceiling. However, in all those events I've never seen us look as well as we did on Saturday. From the top down every athlete was on point. Their movements were clean, reps fast, and communication exemplary. We defined the word TEAM in Team Precision.
This was by far the most competitive Shakedown to date. It was made up of countless top Regional and Games athletes. The wods were challenging and designed along the lines of the Regional structure. I really was not sure how well we would do when I saw the heat list. That doubt was quickly dismantled upon watching each of our 3 teams work effortlessly through workout 1, a very individually-based workout that required execution, communication, and a little bit of heart. Our fantastic ladies set the tone for each team with the boys going big at the end. Donny, Mitch, and D, you three gave me goosebumps at the end, going unbroken. It was so much fun to watch.
Workout 2 required a ton of skill, quick transitions, and once again… solid communication. Again, the Team Precision athletes were the epitome of a team. They proved that the best TEAM would do well in the workout. All 3 finished in the top 15 with 2 teams finishing in the top 5. Their reps were fast–something very important in team competition–and transitions smooth. I once again was very proud with every athlete's efforts and it boosted my confidence that this year's goals and training plan are heading in the right direction.
In the floater, which required a max clean & jerk after a gymnastics element, we had several athletes match or hit huge PRs. Another awesome highlight and take away from Saturday, at the end of the day our Intermediate team, consisting of Alix Furgang, Alanah Bird, Peter Schiavelli, and Donny Zarraonandia, took 2nd. At the Shakedown this is no small feat. The Intermediate division would essentially be the advanced division in any other competition. On the advanced side we finished 4th and 13th. Our 4th place team was 1 point from the top 3. Yes, that's how close it was. If not for a 10th place finish by our ladies in the floater, we would of done better. What's crazy is our ladies, Danielle and Lindsey, hit 185 and 190! Big lifts for the two of them. This is the first time that I can ever say that the Precision ladies got out lifted in a competition, hahaha. However, one thing their performances prove is that Team Precision has moved beyond just being good with a barbell, requiring big lifts to help us excel. These days we are much more well-rounded… and it shows. But I will mention that Mallory and Crystal finished 5th in this workout hitting 170 and 225, so we're still pretty damn strong.. just saying, hahaha!
Precision, I was extremely proud of you all this weekend. Thank you for your efforts and for bleeding blue. I look forward to programming for the Battle of the Boxes, which is up next on November 12th. Please put your teams together, so you can all show Ventura County what we are about. Let's have some fun! See you in the gym.
Fitness – Strength – Community
---
WARM UP:
3 Rounds
10 Inch Worms
10 Scorpions
10 Good Mornings
10 Air Squats
Then:
Mobility
WOD:
"SKYWALKER"
4 Rounds – Row
2 min On / 2min Rest
1 min On /1min Rest
1 min On /1 min Rest
:30 sec On / :30 sec Rest
:30 sec On / :30 sec Rest
*Row for max meters in the time permitted.
**Score = your total combined meters.
POST WOD:
Roll & Stretch