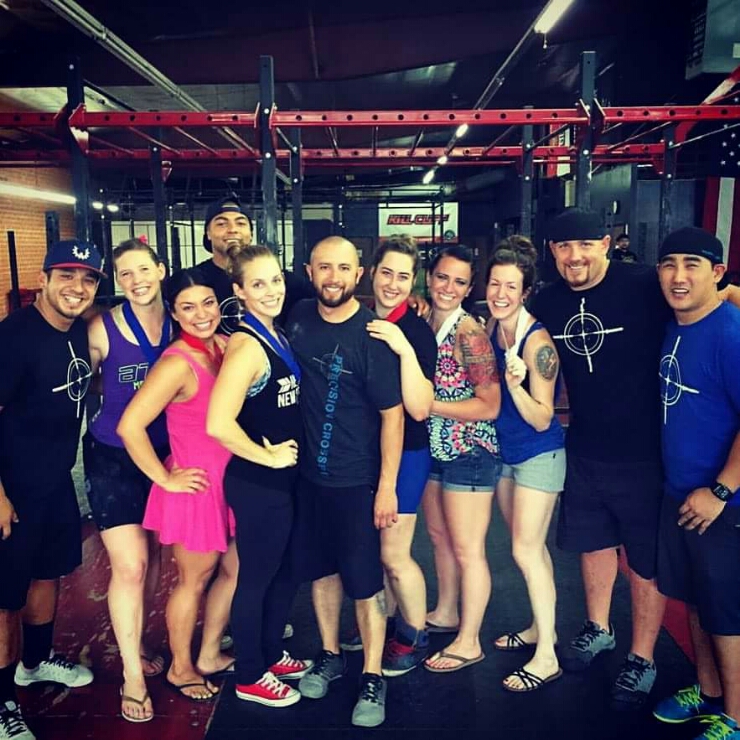 We took 6 athletes to the Team CrossFit Academy Fall Kick Off Weightlifting Meet and walked away with 6 medalists! It was quite the day for the Precision Barbell ladies, all of whom put forth tremendous efforts to prepare for this competition. Weightlifting competitions can be gut wrenching. You not only have to be sound physically but you also have to be very mentally strong. You must perform when it counts. Christine Rees walked into this competition having never earned a podium position before. Her talent is endless due to her incredible work ethic, but her self-confidence has always been a question. However, on this day she realized that she deserved success. She went 5 for 6 on her lifts, earning her a 3rd place place finish in the very competitive 58K weight class. This is her very first medal ever, not only special to her but to myself as well. She has worked so hard and it was extremely gratifying to see her on that podium where she belongs, balling her eyes out. I too shed some tears, having wanted it so badly for her as well.
Not to be out done was soon to be National competitor Deanna Douglas who took 1st place overall in the 63K class. She went 4 for 6 in a dress rehearsal for when she takes the floor at University Nationals at the end of the month. Deanna looked poised and ready to compete on the biggest stage in the country with a solid performance.
In the 69K class we had Alix Furgang and Rocio Ramirez represent proudly with 3rd and 2nd place finishes. On her birthday weekend Alix took her third top 3 finish in a month as she continues to impress week in and week out. Way to go Alix and happy birthday! For Rocio, this marks her 2nd medal in only her 2nd weightlifting meet, which is extremely impressive due to the fact that the 69K class is by far the most competitive class out there with the most lifters. A job well done ladies!
In the 75K weight class we had the current 8th best weightlifter in the nation Crystal Riggs take 1st Place overall. Although she only went 3 for 6 while trying some different things out,
it still was good enough to win her class by more than 10 kilos.
Kenzie Levine represented in the 75K+ class and took 2nd place overall. She went 4 for 6 and made 1 very big lift when it counted to solidify her silver medal. Kenzie puts in the work and continues to get better with each meet she does. This was Kenzie's first time medaling in a meet as well.
A special shout out goes to the amazing Precision CrossFit coaching staff that came out in full force to make sure our athletes achieved greatness. Daimino Stewart, Jose Cobian, Sam Chang, and Jose Guitturez all did stellar jobs following the game plans created for each athlete. I'm convinced we have the best staff out there as evident week in and week out by our athlete success. Big props to these guys!
Fitness-Strength-Community
WARM UP:
400 M. Run
3 Rounds
30 Double Unders
10 Pass Through's
10 OHS
10 Good Mornings
Then:
Hip & Shoulder Mobility
LIFT:
Back Squat
7 @ 65%
5 @ 70%
3 @ 80%
*2 Rounds (7,5,3 then 7,5,3 again)
WOD:
"Fight Gone Badder"
3 Rounds for AMRAP
MIN. 1: Wall Ball (30/20) (20/16) (16/14) (14/10)
MIN. 2: S2O (135/95) (115/75) (95/65) (75/55)
MIN. 3: Burpee Box Jumps (20) (12)
MIN. 4: Cal. Row
MIN 5: Hang Squat Clean (155/105) (136/95) (115/75) (95/75)
*Rest 1 Min. after each round.
**You may start anywhere
***Score = Total Reps
POST WOD:
Mobilize & Stretch