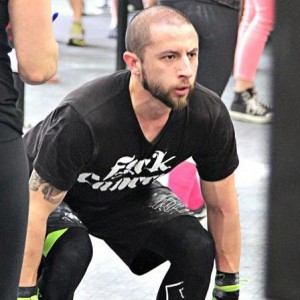 Jose Gutierrez
My name is Jose Gutierrez. I have been doing CrossFit for more than 2 years, and was considered a metcon-master. In June of 2012, I was diagnosed with testicular cancer that required surgery and chemotherapy. That effectively shut down my CrossFit career for 4 months. Before the end of my chemo, I ran into my good friend and co-worker Mike Tromello at a CrossFit event. He asked where I had been hiding for the past few months, but I could tell he already knew the answer. It was physically obvious that I had cancer at this point as all my muscle, endurance and weight had vanished. My skin was yellow and I had no hair on my body. I went from weighing 145lbs to 133lbs. I sat down under Mike's tent and had a long conversation with him. I was clear with what I wanted, explaining to him that I wanted him to make me stronger than I ever was when I returned to CrossFit. I was going to kick cancer's ass and wanted him to know it. We spoke about my future goals with Mike not shedding a single doubt as far as what I was capable of. I told him my goal was to compete again and that I wanted him to help me get there. Mike said, "HELL YES!!" and a few months later upon a clean bill of health having conquered one of the biggest obstacles of my life, I contacted Mike ready to begin my quest. In October of 2012, he placed me on his strength program (I call it get Skrong), which I am still following today. My goal was to be able to compete in the Winter Shakedown, programmed by Mike himself, which was only 3 months away. For those of you unfamiliar with the Shakedown Team Series, it a grueling test of team fitness being arguably one of the best team competitions in the nation. You not only have to be a solid well rounded CrossFitter but also strong as the programing always tends to be heavy, aiming to test the elite. Mike without hesitation knew it was possible for me to get there. Not for a second did I doubt him. February 2, 2013 I competed in the Winter Shakedown, I was able to complete every single lift, and movement that was thrown at me. Thanks to Mike's programming, I now weigh 157lbs, 12lbs more than I did pre-cancer, and I have PR'd on every single one of my lifts, all in less than 4 months. I would like to mention what an honor it is to have a friend and coach like Michael Tromello. I will never forget what he has done for me, thank you. YOU ARE THE F(*&#!* MAN!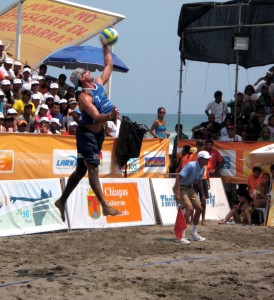 Marcin Jagoda
My name is Marcin Jagoda and I have spent the majority of the past ten years competing amongst the top levels of volleyball around the world. My career started at UCLA where I was a two time letterman and possessed the skills that made me one of the most efficient opposites in the country my senior year. Upon graduation, I turned pro and spent the next 3 years playing for clubs across Europe in countries such as Poland, Greece, Cyprus, France, Ireland and closer to home in Puerto Rico. Upon the conclusion of my indoor career I found myself competing on the Beach circuit here at home, the AVP. Most recently I have qualified to play in representation of USA on the international beach circuit NORCECA (North American Central American Caribbean Association.)
Possessing myself an extensive background in strength and conditioning and having been a strength coach at UCLA and interned for Peak Performance (p3.md) it was a breath of fresh air to have worked with Coach Tromello.  Coach Tromello has helped develop and implement my strength workouts for the past year where I have not only set and broken personal bests but have become a dynamically rounded athlete once again.  Through his skilled eye and expert knowledge my vertical has increased to 44'' from 42'', box jumps once never thought possible are now easy at 50+ inches, max numbers have all increased in the clean, snatch and most impressively in the deadlift (415lbs.)
Coach Tromello is a great strength coach but most importantly a good person who knows how to convey proper knowledge and technique to not only myself but also his athletes.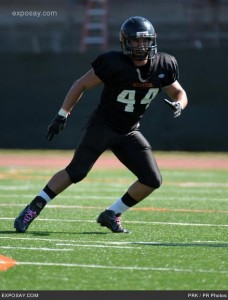 Justin Garza
Mike has been my recruiter, personal trainer, coach, friend and mentor since I was just a senior in high school. After dislocating an ankle my senior season and only playing half the season, it was hard for me to get noticed by any school. Luckily for me, Mike just happened to come see me play the first game of the season and then again a couple games later on T.V. This was the first time someone had approached me for football and was interested in recruiting me. Immediately following the season and my injury we got back to work and Mike helped me put back on the muscle that I had lost, in addition to improving my overall strength and athleticism while attending Moorpark College. From there he helped me transfer to Occidental College, a small liberal arts school known for great academics and a winning football program.  Without Mike pushing me in the gym and in the classroom as well, I have no idea where I would be right now or if I would even be playing college football.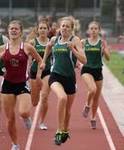 Kelly Reinke
My name is Kelly Reinke and this past spring, I graduated from La Reina High School. This fall, I will be a freshman at the University of Southern California and will be a member of the USC track team as an 800 meter runner. At La Reina, I competed in both cross country and track and field. To improve my strength and endurance, I started working with Mike more than 3 years ago. Working with Mike has made all the difference in the world for me. During my sophomore year, I was a member of La Reina's Varsity Cross Country team that placed 3rd at the State Championship, and later that year I went on to qualify for CIF in the 800m. During my junior year, I advanced to the CIF Track Finals and placed 7th. During my senior year, I claimed the Ventura County Title in the 800m with a time of 2:18 and again participated in the CIF Track Finals. While working with Mike, I supplemented CrossFit along with a disciplined strength program. It was the first real weight training program I participated in and although I had very little strength going into the program, I have become a very confident and strong athlete. I pushed myself during each challenging weight session and feel very thankful to have trained in such a rigorous program. The individual attention I received from my trainers at Precision CrossFit was invaluable. They helped me with my technique on my lifts, allowing me to get the most out of each workout. I would not be the competitive athlete I am today without Mike, and I credit him and Precision CrossFit for much of my track and cross country successes.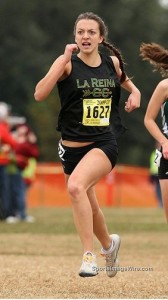 Katie Kavetsky
My name is Katie Kavetsky.  I played soccer from the age of 6 through my junior year of high school, and I ran throughout high school.  I am currently a freshman at Cal Poly San Luis Obispo.  I have trained with Mike Tromello since my sophomore year of high school.  He has helped me through soccer and injuries, to making huge decisions, including that of focusing my life on running.  Mike has always been there for me both as an athletic trainer, as well as a friend.  Over the years Mike has helped me to attain not only my athletic goal, but educational goals as well.  With Mike's help I went from running over 21 min 5k in 2007 to running 19:38 and making 2nd team all League my senior year.  He helped me reach a D1 level of running and helped me to contact and gain college coaches' interests.  Unfortunately I became injured my senior year and regrettably had to give up scholarships.  However Mike has helped me through the 9 month long recovery process both physically as well as emotionally.  Mike is more than a trainer, he is a mentor, friend, family member, and on of the people I admire most.  The time I spend in the gym is the best part of my week and I look forward to every training session.  The people in the gym have become my family and I have become a part of theirs.  I could never have imagined that my trainer could become such a huge part of my life, but Mike has.  I can never thank him enough for all that he has done for me.  From day one he has always been so supportive of my decisions and me.  He has helped me through tough training days, mental upsets, injuries, personal decisions, as well as helped me with my future in running by talking to coaches and writing recommendations for me.  With Mike your get more than a trainer, you get an amazing, committed, and wonderful friend, whom I look up to very much.  I could never be where I am today had it not been for him and all of his support through all that I have been through. I am very thankful for him and I would, and have, recommend him to anyone I know looking for a trainer.  He is amazing!