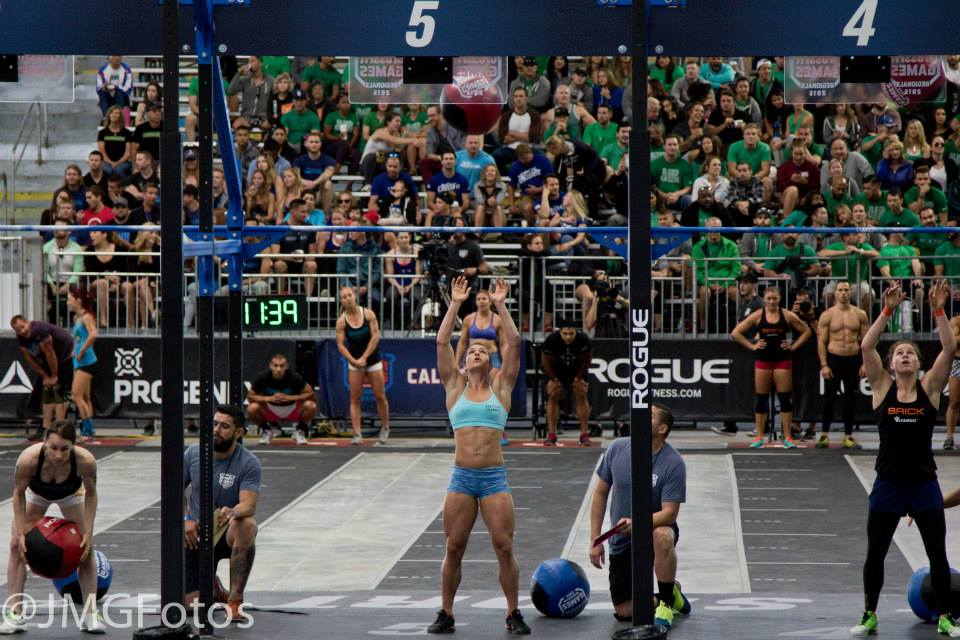 Just like last year the goal of this wod is to get to HSPU with time to spare. For those looking to break the top 20 or go team at Regional's, you must be looking to finish a full round and get back to DL's. This wod is going to be all about back management early on, so break your DL's up early. I really like 10,9,8,7,6,5,4,3,2,1 or 5 x 11's for you phenomenal dead lifters. Going from DL to WB can be a nasty combo for most, so you want to be conservative here. Think 15,14,13,13 as a good rep-scheme or go bigger hitting 25, 15, 15 on your wall balls. This also depends on your rowing efficiency. If you are good on a rower, then maybe you want to break up the wall balls more than usual and crush your row. If you are better at wall balls, then crush those and cruise the row. The goal for advanced athletes is to come off the rower at the 8 min. mark with 5 min. to do HSPU and additional Dead Lifts. This workout in the end will come down to HSPU efficiency. Most will not be able to escape the fatigue and once you lose your HSPU abilities that will be "all she wrote." Do your best to manage your sets and reps on these. Only you can decide what the rep-scheme will be here. Do not go to burn out, and make sure to make every rep count!
A few more points:
1) Mix your DL grip up. Start with an Over Hand Grip, then go to a mixed when you get tired. This will give you a little extra power when you start to fatigue.
2) Towards the end of your DL, do not be afraid to do quick singles. These can be very efficient if done properly.
3) Make sure you know the point of contact on the wall for your WB and hit it every time. Seriously, this can make or break you. You do not want wasted reps.
4) A 55 Cal. row is equivalent to a 1k for most. You want to row at your 1K pace. Whatever that is.
5) Know your strengths. If you are not good at HSPU, but are strong at these other classic movements, then game accordingly. The goal should be to get to HSPU, then chip away from there.
Good luck!!!!!!!!!!!
Fitness – Strength – Community
---
WARM UP:
500 M. Row
3 Rounds
10 Pass Through's
10 Good Mornings
10 OHS
5 Inch Worms
10 Scorpions
Then:
Mobility
SKILL / LIFT:
EMOM 9
MIN. 1: 15/12 Cal. Row
MIN. 2: 3 DL (225/155) (205/135) (185/125) (165/115)
MIN. 3: 3 HSPU
WOD:
"17.4"
AMRAP 13
55 Dead Lifts (225/155)
55 Wall Ball
55 Cal. Row
55 HSPU