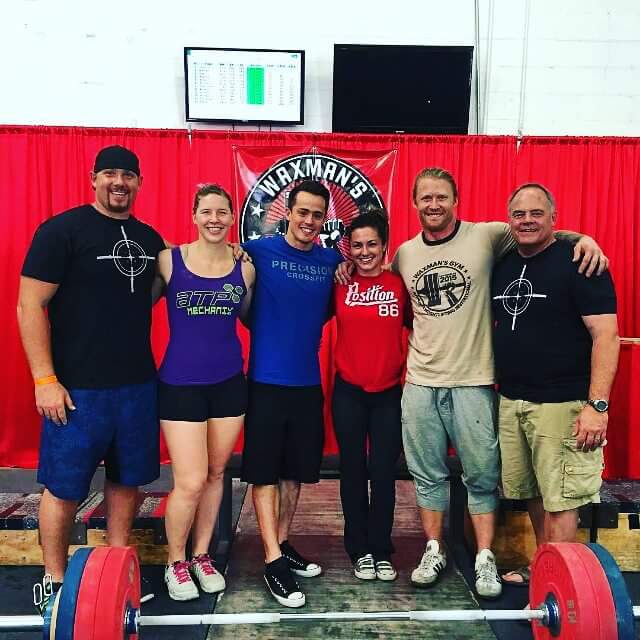 We are super proud of our lifters' performances from this past weekend's Waxman's Gym Affiliate Weightlifting Invitational! We look forward to this meet every year and always can't wait to put our lifters to the test. This is an invitation only event. Only the top So Cal CrossFits are invited to battle it out on the platform as teams of two, 1 female and 1 male. The competition is based off the Sinclair formula, which takes into account strength to body weight ratio. Over the last 2 years we have taken first in the women's division twice and 3rd over all as a team in 2014. This year was more of the same with a 2nd in the women's division and only losing out on 3rd via a tiebreaker by only a few points.
Crystal Riggs took 2nd overall for Team Precision with a 2K Snatch PR at 84K (185lbs.). She also out lifted her opponent by more than 20K; however, Sinclair put her 2nd to a very talented much smaller lifter from San Diego Athletics. Dominick Cognata took 7th overall with a 2K Snatch PR at 99K (218lbs.). This was his very first meet and he was exceptional! He really is talented, and we can't wait to see him on a platform again soon.
Coach Mike and Butch both coached Danielle Marino of CrossFit Horsepower and Andy Thompson of CrossFit Hollywood and Position Apparel. Danielle improved her performance 6 spots from last year, taking 5th overall. She PR'D twice with a 62K (136lbs.) Snatch, and an 83K (183lbs.) Clean & Jerk. She has come a long way since starting with Coach Mike over the summer, and at 121lbs. is putting up some very big weight. Andy Thompson in only our 2nd meet together took 4th overall! Since qualifying for the American Open a few weeks ago, he managed to PR his Clean & Jerk at 144K (317lbs). What's crazy about this is he had food poisoning the night before. He's quite the competitor! An awesome job by all! On behalf of Precision CrossFit, it was an honor and a pleasure to coach all these awesome athletes again. Together we are one!
Fitness-Strength-Community
---
WARM UP:
3 Rounds
10 Air Squats
10 Push Ups
10 Pass Throughs
Then:
Mobilize Hips
WOD:
"10K ROW"
For Time:
Row a 10K
*Record and keep for future comparisons.