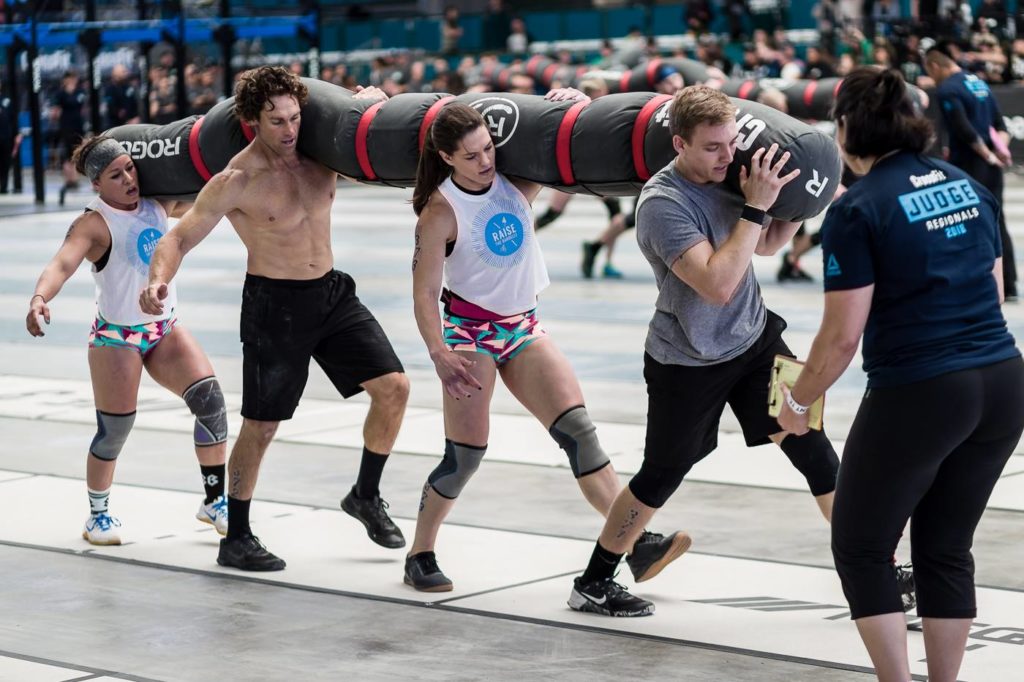 I have been taking a few days to decompress from the weekend before writing this re-cap. All in the all the 2018 CrossFit Games season has been increasingly successful for Team Precision. Fourth in the West out of the Open, 6th ranked team heading into Del Mar, Tori Dow, and Hannah Hall CrossFit Games qualifications. Once the West Regional came to a close. We walked out in 17th place overall. Definitely no where near our goal. However, after a brutal competition that included many high's and low's in arguably the most competitive Region in the world… that is pretty good. Sure we could have done better. You can always do better. Did we compete? Heck yes we did. Were we a team? We weren't just a team. We were a family. Did we represent the Wall of Blue? You know we did. Were we satisfied with our results? I do not think so. Please let me explain.
I pick this team every year to be the best representation of Precision CrossFit. I believe they are always a direct extension of me. Regardless of effort or placing… they should never be satisfied. Hunger is what drives us. I want them to want to be better every year. I want them hungry for what they can accomplish… in 2019. The 2018 Precision Regional Team will go down as the closest team I have every coached. We placed very well in the most competitive Regional to date. Every athlete on that team deserved to be there. I am proud of them. If you gave me a do over. I would take it. I would put this team on that floor again, and I guarantee you would get a top 10 result. We just made some mistakes. We gave the effort. If this team were to do these workouts 9 times out of 10. I know you would get a different result in those 9 times then we got over the weekend. But that is why you play they game. You don't get second chances in competition. That is why I love it. It is also why this team should be excited about it's future. We are young folks. Young teams make mistakes. Young teams also learn from them. That is kind of scary… isn't it?
The West Regional was a blast. You could feel the competitive energy all weekend. Make no mistake. The sport of CrossFit is for real these days. The athlete's I coached on that Regional floor this weekend… they are for real as well. Sometimes you win and sometimes you lose. This was Team Precision's 7th Regional. We win every year we show up. What defines a successful gym is longevity. We have proven that we are a power and have earned respect due to this. We showed flashes of brilliance this year. We will be back next year. We are hungry for it.
Fitness – Strength – Community
---
WARM UP:
50 Single Unders
10 Bumper Jacks 2″
10 Bumper Jacks 4″
10 Walking High Knee Holds
10 Walking Flamingo's
10 Walking Lunges
10 Inch Worms
10 Side Lunges
10 High Kicks
Then:
Mobility
---
WIN & FIT
SKILL:
EMOM 10
ODD: 1 Wall Walk + 8 Wall Facing Shoulder Taps
EVEN: 8e Alt. DB Strict Press (Hold non-working DB up)
*Sub. Shoulder Taps for 2 Wall Walks.
WOD:
"OXIDATIVE 19.3"
For Time:
100/75 Cal. Assault Bike
200 Doule Unders (300 Singles)
50/40 Cal. Assault Bike 
100 Double Unders (200 Singles)
25/20 Cal. Assault Bike 
50 Double Unders (100 Singles)