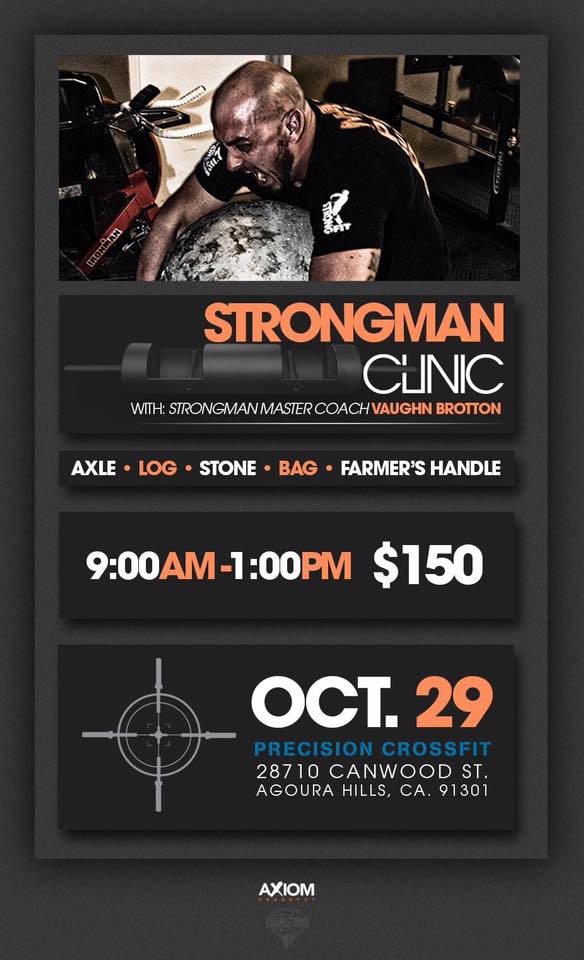 CrossFit is all about being prepared for the unknown and unknowable. Because of this, CrossFit incorporates all types of different functional movment training into programming. We weightlift, powerlift, learn gymnastics, run, jump, and swim… to name a few components. There are so many different factors that define being "fit." However, one thing we have not done is Strongman: farmers carries, yoke walks, sand bag, D-Ball, log, axel, and sled work. These movements are used at various CrossFit gyms throughout the world. In fact, almost every one of the movments mentioned have made their way into the CrossFit Games. Folks… Strongman is a part of CrossFit. It is a part of the very definition of what it means to be multifaceted. Not only this, but some of the exercises practiced are a part of the fundamental principles of life movement.
As of this week, Precision will have a Yoke, D-Balls, Farmer Handles, Sleds, Axle Bars, and Sleds at our disposal for training. We are offering this clinic with one of the best coaches around to introduce you all to some of the equipment that will be now be accessible at the gym. However, to use it you have to know what you are doing. All of our upcoming clinics will be followed up by something new that Precision will be offering. In this case you will now start seeing Strongman elements thrown into class programming. In addition, Coach Mike will also be offering Strongman programming for those that want to take part in this new fitness element. Moreover, if there are enough requests, we will add a Strongman class to the schedule. Some exciting times! Sign up at the front desk or send an email to info@precisioncrossfit.net to get added to the list. You do not have to be a member of Precision to take part!
Fitness – Strength – Community
---
WARM UP:
3 Rounds
10 Air Squats
10 Push Ups
10 Pass Through's
Then:
Group Mobility
WOD:
10 x 500 M. Rowing Repeats
*First 2 repeats should be easy going, then gradually pick up on round 3. You should be settled in a good pace by round 4.
**You can do this with a partner as well. Your rest time will be slightly longer, but your intensity should be much higher.
***Record your average split time.
ADV: Male Goal: 1:40 – 1:45, Female Goal: 1:50 – 1:55
INT: Male Goal: 1:5o – 1:55, Female Goal: 2:00 – 2:05
SCALED: Male Goal: 2:00 – 2:05, Female Goal: 2:10 – 2:15
Then:
3 x 20 Weighted Sit Ups w/ Weight Across Chest
POST WOD MOBILITY:
Mobilize hips and body thoroughly. Take this time to aid in your body's recovery.