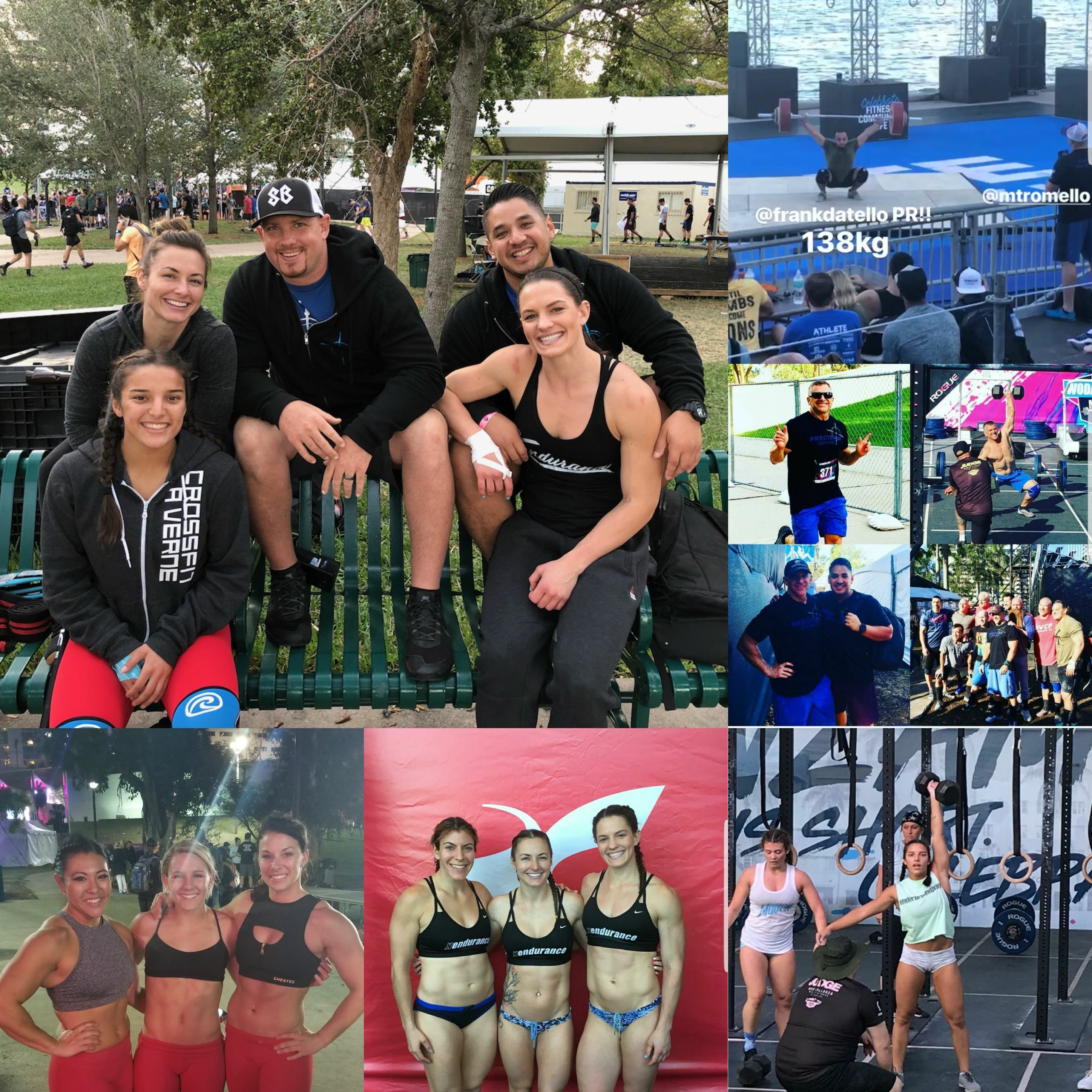 I'm sure you all have been waiting patiently for this re-cap. You want to know how everyone did… right? Well here are my thoughts on Wodapalooza 2018 and the performances of Team Precision athletes Frank Datello, Greg Smiley, Tori Dow, Kristin Secker, Danielle Marino, Lindsey Braham, and Chelsey Grigsby. I also had the honor to Coach Jamie Hagiya, Tia Wright, Sam Lusk, Kristina Bennet, Roxy Traugh, Dane McLoughlin, Kevin Lassen, and Greg Hartwick. I'm very proud of them too, and all their efforts. However, I'll keep this post to the Precision athletes you know and love. 
Frank Datello
Frank started the weekend off in the Wodapalooza Weightlifting Face Off. In this competition he went head to head with some of the best lifters internationally. Frank made it into round 2 never missing a single lift. In addition, he PR'd his snatch by 2K hitting 138K (304lbs). Frank only weighing 83K (183lb) pushed his counterpart in Round 2 to hit a 5K PR to beat him, which he got in nailbitting fashion. Either way Frank won the crowd and respect of the very best in the sport. It's just the beginning for him as he will continue to climb the ladder to ultimate success.
Greg Smiley 
Man was it good to see this guy in action again on a big stage. It has been 4 years since his last major competition. As always, Greg was a humble competitor making sure to put having fun first before anything else. One of his greatest attributes has always been his ability to execute a game plan. This did not change at all this weekend. His ability to do this helped him find himself in 3rd place going into Day 3. Although, the final day did not go as planned. Greg showed he could compete with, and beat the best. When all was said and done Greg took 8th overall an impressive top 10 finish. Since Greg went against many of the same athletes found at the CrossFit Games. It is fair to say he is one if the fittest 50 year olds in the sport after this weekend. A heck of a feat at any age. 
Tori Dow
In a teenage division now staked with talent Tori found herself battling with familiar company. The same girls she competed with at the games showed up to throw down this weekend. Tori did not disappoint taking several Top 10 finishes. Physically she has all the tools needed to be highly successful at her level. However, what I felt has always held her back has been her mental game. This is something that I have been working hard on. At the end of day 2 that at all changed as she had a massive breakthrough where I saw her finally believe in her capabilities. This lead to one successful workout after another giving her the confidence to believe that she is one of the best. Her capabilities are endless and now… she knows. She even jumped in for one last wod filling in for Lindsey after an unfortunate injury. Our team; Hollow Rock West Coast, was in the elite division. This is the best of the best teams from around the world. Tori jumped in for the Finals under the lights on the biggest stage imaginable and she was fearless. I could have asked for a better outcome. 
Team Hollow Rock West Coast 
This Team consisting of: Kristin, Danielle, and Lindsey qualified for the highest division in CrossFit competition outside the Games. This meant they would have to complete the toughest workouts against the very best the world has to offer. Although, they never placed too high. They battled to the very end. 
It's hard to talk about this team without talking about Lindsey Braham first. As many of you may not know. Lindsey had decided to take a hiatus from the sport after Regional's this year. She had accomplished so much but felt it was time to focus solely on health,  family, and career. When she decided to jump in for our Wodapalooza team this year she did so as a favor. It also gave her one last opportunity to go Team with her best friend Kristin. Although, Lindsey was unable to finish the competition due to a foot injury. She still showed the flashes of brilliance that led her to dominate the gym's females over the past few years. I know what happened wasn't ideal. However, she had nothing left to prove in the sport. Although she was heart broken. I took solace knowing this. She is, and will always be one of the best I ever coached. It was a true honor to Coach her one last time. I know she'll be back someday even though it hurt to see her withdraw. She has the heart of a lion and will alwats be true champion. It will just now be in a different arena. It's funny in a way. Lindsey stepping away opened a door in a sense that Kristin walked right through.
Never in all my years of coaching CrossFit have I seen one athlete do and stand out so much for a team. Kristin Secker literally and figuratively put the Team on her back this weekend. When twenty 150lb sandbag cleans were needed. Kristin did all 20 of them. When the other girls couldn't cycle a heavy 185 lb barbell… Kristin cycled it. At one point Kristin and Danielle did a 3 person workout by themselves and they beat other teams. Lindsey dominated the gym landscape for so long taking the torch from Katie Crowe, Jess Goeser, and Crystal Riggs and at this competition the torch was passed… yet again. Kristin was brilliant. I have no other words to describe her. What a show of relentless pursuit. It was utterly amazing. This leads me to Danielle Marino.
After two years of very hard work Danielle made the Regional Team last year. She's not very big but her confidence in her abilities is contagious. She always keeps it light but when it's time to compete… she does. She's another young star in the gym reminding me of what Kristin was back in 2014 after her first Regional experience. Tons of confidence and ability, yet so much more to grow. This is Danielle, and I know someday Kristin might pass that torch to Danielle. I can see what Danielle can and will become. When it's right she will lead but for now she's a heck of an athlete coming into her own. I'm very proud of her tenacity and relentlessnes to step up when Lindsey fell.
Chelsey Grigsby
Already a proven individual bad ass Chelsey went team with two of the best in the sport; Jamie Hagiya and Tia Wright. They made up Team Fireball that pushed all weekend for a podium finish. Although, they came up short. Chelsey proved she belonged in that arena against the best Games athletes in the world. Always coming up just short of qualifying for the CrossFit Games. I have always wanted to see her push against the best, and she proved she could. A very impressive finish with actually quite a bit to grow as she enters the team rhelm full time this season. 
Well that will do it folks. Thank you for all the support. Your words of encouragement were heard loud and clear. Every one of us were honored to represent the Wall of Blue! Until the next time. 
Fitness – Strength – Community
---
WIN
SKILL:
EMOM 9
MIN. 1: 7 Strict T2B
MIN. 2: 20 V-Ups
MIN. 3: 20 Hollow Rocks
LIFT:
7 Rounds (Every 90 Sec.)
Full Clean + Front Squat + Jerk
*Build
**Adv: Try and take 20lb jumps. 
WOD:
For Time:
20 Deadlift (275/185) (225/155) 
20 T2B
20 Hang Clean (185/125) (155/105)
20 T2B
20 S2O (135/95) (115/75)
20 T2B
---
FIT
SKILL:
EMOM 9
MIN. 1: 7 Strict T2B or 14 Leg Lifts over a Cone.
MIN. 2: 20 V-Ups
MIN. 3: 20 Hollow Rocks
LIFT:
7 Rounds (Every 90 Sec.)
5 Front Squat 
*Build
WOD:
3 Rounds
20 Alt. DB Step Up's 20″ (50/35) (45/30)
18 Sit Ups
16 Lateral Squat Jumps over a DB