Mike Tromello MAT, CSCS, USAW, CPT, CROSSFIT LEVEL 1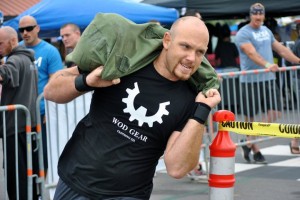 Mike, a 2001 graduate of Newbury Park High School, attended Moorpark College for a year before transferring to Occidental College with a football scholarship. Mike Spent 3 years playing for the SCIAC Champion Tigers graduating with his Bachelor's Degree in 2005. In the summer of 2005, Mike spent 6 months playing professionally in Europe for the Gefle Red Devils of Sweden. Mike also served as the Defense Coordinator for the organizations prep team as well as the head strength and conditioning coach. Upon his return home, Mike went back to Occidental College to complete his Master's Degree and Secondary School teaching credential, which he completed in the spring of 2006. In December of 2006, Mike represented team USA against team Canada in a football showdown between the two countries. Between 2005 and 2008 Mike spent four seasons as the Strength & Conditioning and Secondary coach for the Occidental College football team. Moreover, in September of 2008 Mike took over as Head Middle School Strength & Conditioning Coach at Harvard-Westlake School where he was put in charge of the schools middle school development program. Since his arrival the program has been ranked #1 in the nation and has received much acclaim.
Mike has been coaching and competing in CrossFit for 5 years. He has worked with many Regional and CrossFit Games competitors to go along with his work with Team USA weightlifters and professional athletes of all sorts. In addition, Mike still continues to work with the area youth and high school athletes helping to place many into colleges of all levels. Due to his love for CrossFit and seeing a need to offer the surrounding area's a quality run establishment, Mike along with Greg decided to open their own Strength and Conditioning Company, Precision CrossFit located in Agoura Hills, CA.
Philosophy
With over 17 different certifications I feel I bring a lot of experience with me from my background in sports to those looking to get in shape. Being a former collegiate and professional athlete I have had the opportunity to witness the inner workings of some of the elite strength and conditioning programs. I know what it takes for an athlete to accomplish their dreams and hope to pass on the knowledge and work ethic I learned to others. I feel that I'm a great motivator and have the ability to bring the best out of anyone.
"Believe in yourself without any doubt that it is possible"
Greg Smiley B.A., CROSSFIT LEVEL 1, 23 year veteran police officer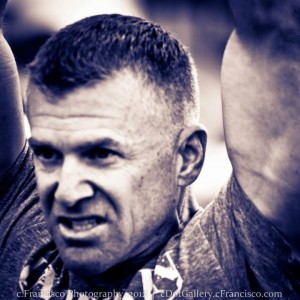 As a 23 year veteran Police Officer, Greg has learned the values of fitness and mental toughness. He has over 18 years on his agency's SWAT Team and has been the Team Leader for the past 12 years. As the Tactical Team Leader, Greg is responsible for insuring that his team members are in peak physical condition at all times. His coach-like leadership style has been successful in leading his Team to victory in numerous SWAT competitions including taking 1st place in a SWAT competition that included over 40 SWAT teams from the western United States. Greg's SWAT Team is one of the first in the country to incorporate CrossFit into SWAT qualification standards.
Sports and fitness has always been a part of Greg's life. He grew up playing team sports, including football, baseball and ice hockey. He has run several marathons, numerous triathlons and has completed an Ironman Triathlon in less than 12 hours. Greg has always been in "good shape," at least he thought, until he started CrossFit. At 44 years old he is in the best shape of his life and he is committed to useing his plethora of knowledge and experience to help others reach their goals.
Philosophy
I have been teaching and coaching a 30 member SWAT Team for more than 15 years. I know that people are motivated in different ways. I believe that many people, who are overweight or out of shape, have the drive and motivation but have been inhibited by poor training and bad nutritional information. My goal is to help those people, both young and old, achieve their potential and realize how enjoyable a healthy lifestyle can be.
"Believe with all of your heart that you will do what you were made to do."
–Orison Swett Marden-
Jessica Goeser MA, CROSSFIT LEVEL 1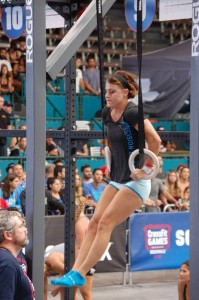 Unlike many crossfitters, Jessica began her athletic career when she began crossfit in the spring of 2011, and like many crossfitters she thrived on the competition. Suddenly immersed in the world of competitive fitness, Jessica steadily developed as an athlete, strengthening her mind and body. Her dedication landed her on Precision's Regional team in both 2012 and 2013. Her love of Crossfit led her to obtain her Level One cert in the fall of 2012. She looks forward to a long, healthy career as a crossfit coach and competitor.
Philosophy
I believe that every athlete is multifaceted and every day is unpredictable, so defining success in crossfit will vary with the workout. Some days success will mean PR-ing, and other days it will be a triumph just to finish the wod. Regardless of what kind of day it is, my goal is to push you to succeed in it. I believe my role as a coach is not just to instruct and enforce proper technique, but also to encourage and inspire the community between crossfitters. Because harnessing the power of community to achieve your fitness goals is what crossfit is all about.
"It's never too late to become what you might have been."
-George Elliot
Hunter Knowles B.A., USAW, CROSSFIT LEVEL 1
As a competitive multi- sport athlete since youth, Hunter grew up in the alternative sport arena surfing, snowboarding, and wakeboarding while playing varsity basketball through high school. While attending UCSB, Hunter quickly realized that the ocean, beach, and mountains were perfect platforms to keep him in shape and keep his competitive nature alive. Not knowing that CrossFit existed, he began to move away from the traditional gym and started experimenting with his health and fitness by incorporating trail runs, rock climbing, and long distance paddling into his workout routine. This expanded his passion for alternative sport and although he did not participate in collegiate sports like most coaches in CrossFit, his passion for fitness and competition began to emerge.
After graduating in the summer of 2009 with his bachelors, his passion for competition and sport was ignited when he discovered CrossFit in early 2010. Since then, CrossFit has become his passion, his sport, and his life. In 2012, he found Precision CrossFit and quickly became part of the coaching staff when his natural ability to coach, perform, and improve the fitness of his peers was discovered. Hunter is committed to Precision CrossFit and its community by

spending time studying under various coaches, learning new techniques, and pushing the limits of himself and his members every single day.
Philosophy
Growing up, it was quickly instilled in me that hard work and dedication are keys to achieving success in every aspect of life. Although simple, I feel that this mentality gives both myself and my students the fuel that is needed to excel in CrossFit, both as an individual and as an athlete. As a coach, I apply these same aspects of hard work and dedication to each and every member, every day, every class, every workout. I understand that everybody is different and has different physical and mental capabilities. Everyone is going to have a different goal, be it mental or physical and by being a member of the Precision CrossFit community, it is my sole purpose to understand each of these and the steps it will take to get there.
"Hard work beats talent when talent fails to work hard"
-Kevin Durant
Katie Crowe M.S., USAW, CROSSFIT LEVEL 1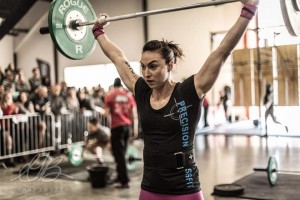 Katie began her athletic career in the sport of Equestrian Show jumping. In her sophomore year she switched gears and became a multi-sport athlete and began competing in cross-country, track and field and basketball. Upon graduating in 2005 from La Reina High School, she earned a spot on the California State University, Long Beach Division I Track and Field team as a pole-vaulter. At CSULB, Katie earned a qualifying spot for the conference roster all four years, and her name is at the top of indoor and outdoor all time school record lists. She graduated in 2009 and hung up her vaulting spikes ending her pole vault career. In the fall of 2010, she found Crossfit and fell in love with it. She coaches everyday while earning her Masters Degree and competes in CrossFit to keep here competitive spirit up representing in the reebox CrossFit Games So-Cal Regionals each year.
Philosophy
In my career as an athlete, I have found that there are three things that can help attain your personal goals: hard work, passion, and plenty of support. I would say I was a late developer. Because of this, I was often the last one on the practice field, in the lifting room, or in the training room. I was putting in the extra time where I needed to put it to help myself reach the goals I had set. At a young age I learned that hard work is the backbone of any performance worth having. I also learned passion and heart can make things you once thought unattainable, a reality. The last thing that I have always thought affects success if having the support to get you there. My coaches, teammates, family and friends were always pushing me to be better, helping me up when I was down, and drove me to be the best that I could be. This is what I strive to do as a coach, offer my clients the same support that I have experienced as an athlete to help them reach goals of any size, share my passion to help them find joy in their workouts, and instill that a little bit of hard work goes a long way.
"Victory belongs to the most persevering."
~Napoleon~
Daniel Tromello B.A., USAW, CROSSFIT LEVEL 1, NCCPT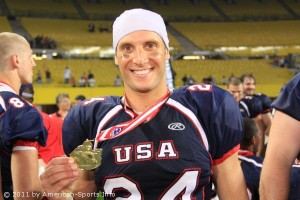 Daniel, a 2004 graduate from Westlake High School attended Moorpark College for two years before earning a football scholarship to Occidental College. Daniel was a three-year Nationally recognized Defensive back at Occidental and holds the interception record there in just three recorded seasons. Upon earning his Bachelors degree in 2008 Daniel played arena football for one season in Illinios and then overseas in Germany for another season. Upon his return home he coached the sophomore high school basketball team at Westlake to a league title. He also worked as the assistant Defensive Coordinator/ Defensive Backs Coach at Moorpark College and helped coach the defense to a number one state ranking. Daniel found Crossfit in 2009 while training for the NFL combine and quickly fell in love with it. Since then Daniel has been very much involved with coaching and competing in CrossFit. He has developed people of all ages to recognize their desired fitness level and credits CrossFit for helping him achieve his own. Daniel retired from Football in July of 2011 after being a part of The US National Team ( Team USA) of American football. Daniel won a gold medal.
Philosophy
Being a former professional level athlete I believe that nothing is given, but everything is earned. There is no easy way around. If you want something, go and get it. It's not always about talent but relentlessness about your dreams and ambitions. It is to nobodies surprise that the hardest workers are the most successful. I have lived my life through these mottos and instill these habits in everyone I train and teach. I know that everyone has a level inside of them that they have never attained and a passion never realized. I am here to guide people to their goals one step at a time. We are all in this together and I can't wait to help people through the journey and lifestyle that CrossFit offers.
"Its not what you do when people are watching, its what you do when the aren't"