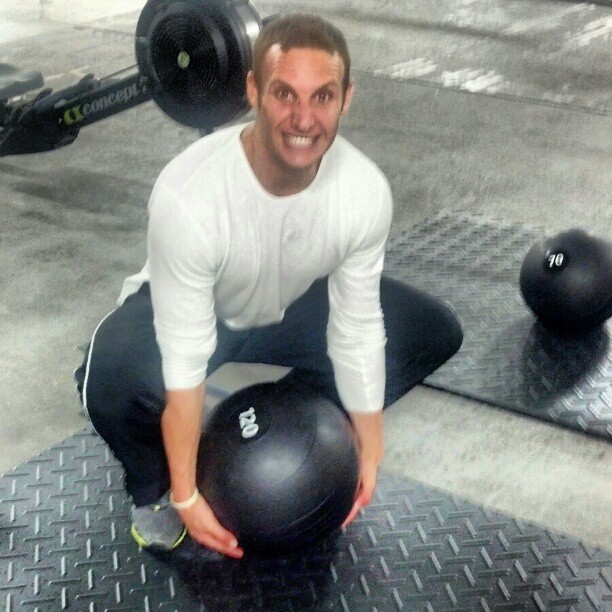 I want to wish my little brother Daniel a very happy birthday! As many of you know, Daniel and I are very close. Our parents raised us to always look out for one another, and to love each other unconditionally. I have had so many amazing experiences with my bro, and feel so blessed to have the relationship with him that I do. It has taken us to many spectacular places with experiences to last a life time. I got to coach him during his college football days, which included two SCIAC championships, two national playoff appearances, and several awards and accolades for him. I got to travel to Europe not once, but twice to watch him play pro football overseas. Still one of the coolest moments ever was watching him win a gold medal with Team USA in front of a packed Arena in Austria! I have been all over Europe with him, all while realizing how lucky I was to have such a talented bro who opened up such amazing doors for me to walk through.
Once our football lives were over, CrossFit became our new passion. For the first time in our lives we get to do something together on a regular basis where we are on an equal playing field. It is a blast training with each other, and programing for Precision CrossFit as well as our competitions, such as the Shakedown. I have so much fun putting our creative minds together to come up with new concepts, and ideas. I also love that I have gotten the opportunity now to compete along side him. When we were growing up we always wanted to be on the same team as each other, but would always just miss out by a year. CrossFit has fulfilled a dream that we both have always wanted. We are two very passionate individuals, who put our families first above all else. Watching Daniel become an uncle has to be one of the coolest things so far that I have witnessed. I did not think anyone could love my children as much as Em and I do, but I know, for a fact, that Daniel truly does. The two of us have accomplished a lot together from the time we were very young. We have always had similar idea's for what we wanted to accomplish in our lives, and have taken each other places we never dreamed we would go. We are a team, have always been. When we were kid's they used to say; "Do not ever mess with a Tromello brother, chances are the other is not very far," haha. Love you little brother. Thanks for being my biggest supporter and for always believing in me. Where others have shown doubt, you have never flinched, HAPPY BIRTHDAY!
-Together We are One
WARM UP:
500 M. Row
Then:
25 Front Squat (45/35/15)
25 Strict Press
Then:
Shoulder Mobility
SKILL:
7 Min. of Bar Work:
-Hollow Taps
-Bar Push Away's
-Kip Work
-Butterfly Work
*Get your shoulder's warm
LIFT:
Thruster
3 x 3 @ 75%
WOD:
"HELL-IN"
For Time:
1200 M. Run
63 KBS (53/35) (44/26) (35/18)
36 Pull Ups
800 M. Run
42 KBS
24 Pull Ups
400 M. Run
21 KBS
12 Pull Ups
*Yes, my brother is sick!
POST WOD:
Hip Mobility