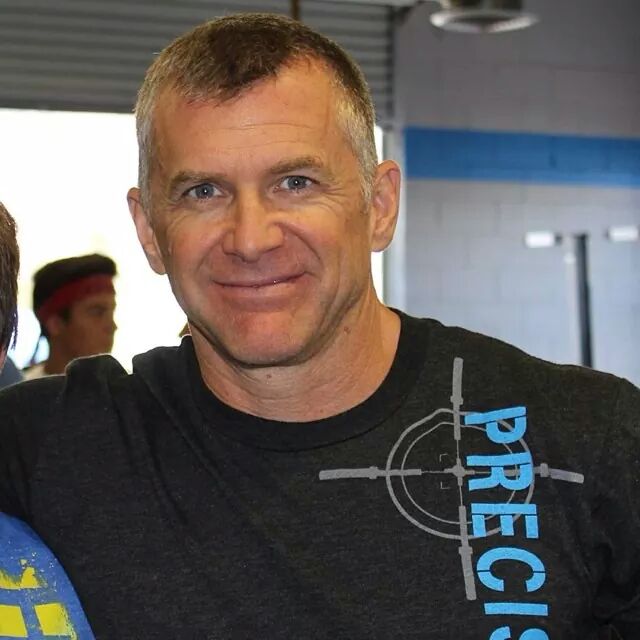 A very happy birthday to the loveable co-owner of Precision CrossFit, and Masters bad ass Greg Smiley! Without Greg P.C. would not be what it is today. He is a man who works effortlessly to be the best at all his crafts. He is an officer of the law, coach, father, brother, and husband. His ability to balance his life around his beautiful family to achieve his many goals is a skill within itself. I'm confident we'll see him back at the Games next year. Enjoy the day Greg and thank you for all you do for Precision. Most importantly thank you for being such a great friend. I could not ask for a better person to learn from and be on this journey with. Happy birthday old man. We love you!
Fitness-Strength-Community
WARM UP:
750M. Row
*250 Easy, 250 Mod., 250 Hard
Then:
2 Rounds
5 High Shrugs (45/35/15)
10 High Pulls
10 Muscle Cleans
10 Jerks
Then:
Mobilize
SKILL:
3 x 20 Hollow Hold Sit Ups
Pair With:
3 x 10 Bar Roll Outs
LIFT:
Front Squat
3 @ 70%
3 @ 80%
3 @ 85%
2 x 3 @ 90%
WOD:
"SMILEY"
EMOM 10 Clean & Jerk
Min. 1-4 = 2 Reps @ 70%
Min. 5-6= 2 Reps @ 75%
Min. 7-10= 2 Reps @ 80%
Then: (Immediately Following)
5 Min. AMRAP
1-2-3-4-5-Etc.
Front Squat (Final Clean & Jerk Weight)
Bar Lateral Burpees
*Score = total reps from AMRAP.
POST WOD:
Mobilize Hips and Shoulders