Paleo Sweet Potato Sloppy Joes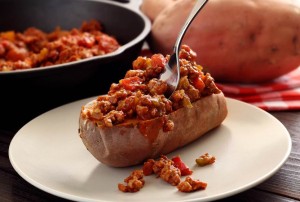 This is on my menu for tonight. It looks delish. Plus it seems like an easy recipe to make and one that the kids will enjoy too.  I found this recipe at Paleonewbie.com. Enjoy!!
Ingredients
4 pre-baked sweet potatoes or yams
1 1/2 lbs of grass-fed ground beef or ground turkey
1/2 onion, chopped small
1/2 green pepper, chopped small
1/2 red pepper, chopped small
1/4 cup of celery, chopped small
1 clove of garlic, minced
1 tbs of chili powder
1 tsp of cumin
2 tbs of coconut sugar or honey
(1) 14 oz can of diced tomatoes, with liquids
(1) 6 oz can of tomato paste
Instructions
Saute the onions, garlic, celery together in a skillet until onions are tender
Add and brown the ground beef in the same skillet
Next add the spices, coconut sugar (or honey), and bell peppers to the skillet
Pour in the can of diced tomatoes with liquids and the tomato paste
Simmer all together on low for about 15 minutes
Finish with salt and pepper to taste
Cut sweet potatoes in half and scoop out a portion to form a little bowl and fill with sloppy joe mixture -or- slice up each sweet potato into wedges and pour sloppy joe mixture over
Serve hot and enjoy!