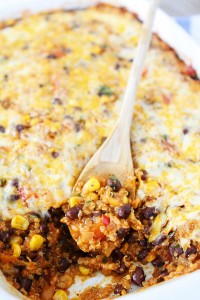 Quinoa Enchilada Bake
Hi Y'all!! Hope you are having a fabulous week so far. This recipe comes the blog twopeasandtheirpod.
(www.twopeasandtheirpod.com/black-bean-and-quinoa-enchilada-bake/)
I made this tonight and it was super delicious. A little more time is required into the prepping of this recipe but definitely worth it. This is NOT a Paleo recipe but it is packed with protein.
Enjoy!
And don't forget to sign up for the Body Fat Loss Challenge starting 5/28-7/1 
Ingredients:
1 cup uncooked quinoa, rinsed (~24 grams of protein)
2 cups water
1 tablespoon olive oil
1 small onion, diced
3 cloves garlic, minced
1 jalapeño, seeds and ribs removed,diced
1 red pepper, seeds removed, diced
1 orange pepper, seeds removed, diced
1 cup corn frozen kernels
Juice of 1 small lime
1 teaspoon ground cumin
1 tablespoon chili powder
1/3 cup chopped cilantro
Salt and pepper, to taste
2 (15 oz) cans black beans, drained and rinsed (~21 grams of protein/can)
2 cups red enchilada sauce
2 cups shredded Mexican cheese
Toppings: Sliced green onions, avocado slices, sour cream, optional
Directions:
1. Preheat the oven to 350 degrees F. Grease a 9×13 baking dish with cooking spray and set aside.
2. Add quinoa and water to a medium saucepan and bring to a boil over medium heat. Boil for 5 minutes. Turn the heat to low and simmer for about 15 minutes, or until water is absorbed. Remove from heat and fluff with a fork. Cover quinoa and set aside.
3. In a large skillet, heat the tablespoon of olive oil over medium-high heat. Add the onion, garlic, and jalapeño. Sauté until softened, about 5 minutes. Add in the peppers and corn. Cook for about 3-4 minutes. Add the lime juice, cumin, chili powder, and cilantro. Stir to combine. Season with salt and pepper, to taste.
4. In a large bowl, add the cooked quinoa and black beans. Add the sautéed vegetable mixture and stir to combine. Pour in the enchilada sauce and stir. Add 1/2 cup shredded cheese.
5.Pour the black bean and quinoa mixture into the prepared baking dish. Top with remaining shredded cheese. Cover the pan with foil. Bake for 20 minutes, then remove foil. Bake an additional 10 minutes, or until the cheese is melted and edges are bubbling. Remove from the oven, and let cool for 10 minutes. Garnish with toppings, if desired. Serve warm.