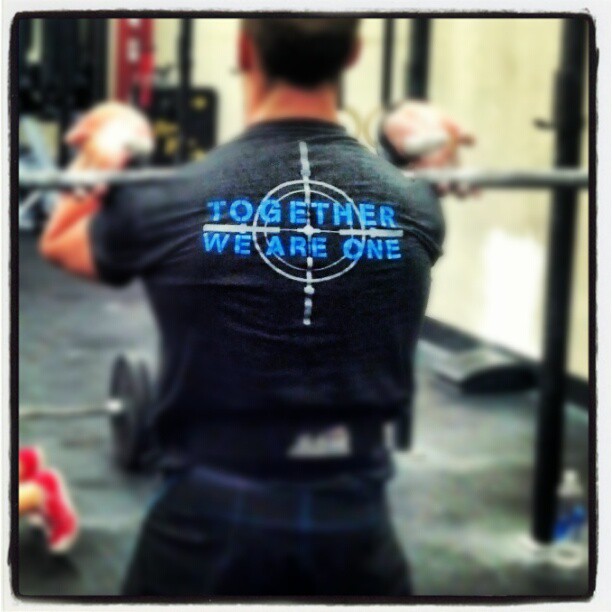 You know it is easy to take something for granted when you are around it everday. At Precision this is easy for me. While you all look at it as a second home with a family you would do anything for, Greg and I have a different perspective, sometimes jaded by various business decisions and day to day operation tasks to keep what you love running smoothly. Having this perspective, it is easy to lose sight of things. That's until you get reminded of just how special Precision CrossFit really is. Many CrossFits advertise the word "community" when trying to get people to join their gym. It is a sexy buzzword that gets tossed around but never gets tested. Precision CrossFit does not have a community. It has a family… and it has been tested. The injury to Jose Cobian was one of those tests. Our G.M., coach, bad ass athlete, and friend was laid up due to his Achilles rupture. Without insurance he remained helpless to get it fixed. That was until the Wall of Blue got involved. 
In 24 hours "Step Forward for Jose" was able to raise $6,700. Meanwhile, beloved member Rob Miller, who also has been touched by the #wallofblue  during his radiation treatments, was able to do the incredible, too. Because of Rob, one of the best orthopedic surgeons in the nation, Simon Finger, will repair Jose's Achilles for free. In addition, his post-op care will be free. The only catch was Jose would have to fly to New Orleans to get the surgery completed. However, because of Pat Bader, Sean and Callen Johnson, Jose will fly first class to New Orleans. When he comes home, he will be treated for free as well by my physical therapist, Dan Wick of Custom Physical Therapy, who is one of the main reasons why I am the athlete I am again after my rupture 18 months ago. 
Now, the money raised can go to Jose's peace of mind. It can go to his comfort in New Orleans. To his hotel and other travel expenses. To the various fees he will have to pay for post-op treatment. It will also help him stay on his feet while he loses part of his income over the next few months, not being able to bar-tend on the side. Because of all of you, Jose Cobian will be back and better then ever. 
Greg and I are in awe of the amazing community we have built. You have reminded us both how powerful the #wallofblue has become and how one gym can take care of its own. I know I speak for Jose as well when I say, "Thank you." Thank you all for what you have done. Thank you all for stepping forward for Jose, so he can do so again. Precision CrossFit is a special place. A true family that cares more about the symbol on the front of the shirts rather than the name on the back. Together we are truly one, Precision. Together you have done the unthinkable. We are humbled by your generosity and love. I can't wait to get going on Jose's recovery. If you were inspired before, just wait and see how he is about to inspire you now.
Fitness-Strength-Community
---
WARM UP:
3 Rounds
30 Double Unders
10 Pass Throughs
10 OHS
10 Good Mornings
10 Bumper Jacks
Then:
Shoulder Mobility
SKILL:
EMOM 6
ODD: :30 Sec. Hollow Hold
EVEN: :30 Sec. Flutter Kicks (Arms in Hollow)
*After last set of flutter kicks go directly into make effort plank hold.
**Record your score. 
LIFT:
Front Squat
5 @ 70%
3 @ 80%
2 @ 90%
*2 Rounds 5-3-2, then 5-3-2
WOD:
"COBIAN"
AMRAP 10
100 Double Unders
30 Cleans (225/155) or 70% 1RM
15 Bar Muscle Ups
*Sub. Burpee Pull Ups for B.M.U.
POST WOD:
Roll & Stretch