The St. Valentine's Day Massacre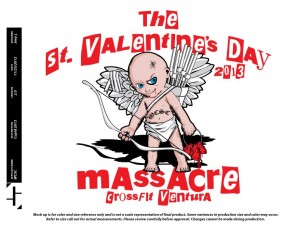 When: THIS SATURDAY, February 9, 2013
Where: CrossFit Ventura, 5777 Olivas Park Drive, Ste S, Ventura, California 93003
Time: All Day
Info: On Saturday, February 9, 2013 West Coast Strength & Conditioning (home of Crossfit Ventura) will host the SECOND ANNUAL St. Valentine's Day Massacre, a coed, two person team competition. This event was amazing last year, and this year promises to be bigger and better than ever!
We got 3 MASTERS Teams and 1 ADVANCED TEAM competing. Come out and cheer on Marty & Lynn, Lisa & Pat, Juan & Angie, AND Smiley & Haley!
FIRST HEAT STARTS AT 8:00 AM. WEAR OUR COLOR'S AND SHOW THAT PRECISION SUPPORT!!