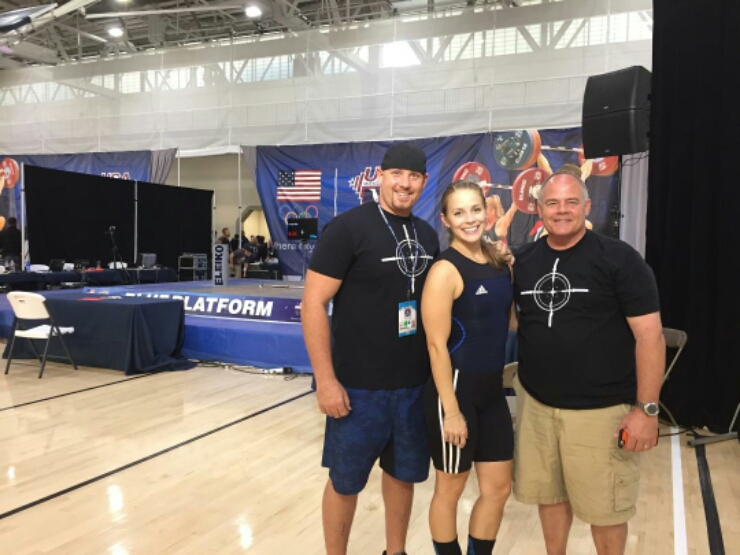 Adversity is something all humans must deal with at different points in their lives. How they handle it can determine so much about who they are at the moment, where they want to go, and if something is for them or not. In athletic competition, adversity is a regular obstacle that all athletes must face. This weekend Danielle and Deanna were hit several time with adversity. Did they have what it takes to succeed at the national level in the sport of weightlifting? Could they persevere after failure and ultimately succeed? The social media posts, videos, and conversations do not give either of these lifters justice for what they accomplished this weekend. Both were faced with very tough choices and mental obstacles where it became do or die. Both had different ways of dealing with these situations, but in the end they proved overwhelmingly that they were two of the best young lifters in the nation and that they would be there to stay.
On Friday Danielle Marino took the floor. Always very calm, collected, and excited, Danielle is a natural competitor. However, this was her first time competing at the national level, only her second sanctioned weightlifting event. Danielle had obvious jitters leading up to her first snatch, so we went with a guaranteed lift. After making her first lift, she was off to the races with a sense of joy only a natural competitor could have. Danielle went 3 for 3 on the snatch, a tremendous accomplishment at any level, and set a new competition PR at 57K (125.4 lbs.). She was pumped and ready to crush her clean & jerk, but on her first attempt she got called for a press out and missed the lift. This call has the ability to sway many athletes into a negative mind set, but Danielle persevered. After a 1K jump to buy her some time, we sent her back out there… and she nailed it. Now a decision had to be made: do we stay the course and go for a PR, or do we deviate and go with a safer lift? Danielle wanted to go for it, which gave us a ton of time before her final lift, so we got back to the warm up platform to rework some technical stuff and do some pulls before sending her back out there. Fifteen minutes later, Danielle stepped back on the floor… PR! At 58K (127.6 lbs), Danielle nailed an 80K (176 lb.) clean & jerk. This allowed her to finish the day in 14th place, with a new total PR of 137K, improving her national ranking by 5 spots! A very impressive outing for Daniellle.
The next day we arrived at the venue for Deanna. I could tell she was excited, but I could also see some doubt, so I continued to reassure her that she belonged on that level, that she earned the right to compete with the best in the nation, and that she needed to believe that. The difference between Danielle and Deanna is that Danielle has been a competitive athlete all her life. Deanna had not been. In fact she has never played a sport in her life although Deanna has danced and acted, which gives her phenomenal presence on the platform. Her athlete's mindset is something still developing. On this day Deanna would have to figure it out or be crushed by disappointment. She chose to succeed, but how she went about it is a story within itself.
As Deanna took the platform for her 2nd snatch upon a successful 1st attempt, I could tell she was running purely on adrenaline and emotion. For those of you who know Deanna well, you know she is a very emotional person. However, when mixed with too much adrenaline, that emotion can become overwhelming, which is exactly what happened during her second lift. Too much stimulus, too much adrenaline, too much emotion and she over-pulled the bar, missing the lift dramatically. When she walked off through platform, I could tell she was rattled, and Butch and I decided to go with a safe lift 1K below her PR 64K (141 lbs.). This bought us several minutes. Yet, when I went back to the warm up platform with her is when I realized how mentally jaded she was. I had her do a couple light snatches and she missed them both, only making her mental state worse. So I began to think about how I could make this beautiful athlete successful. What could I say or do right then to get the best out of her? So I reached back to some sports psychology techniques I used in my football playing days. I had her sit down and relax. I made her focus on her breathing, and when she was calm, I made her take "mental reps." I told to her to envision herself on the competition floor, to go through her approach, then her lifting progressions, then to feel a good lift and to see 3 white cards, and last but not least to smile in accomplishment. I had her do it over and over. Then after quite some time, we tried to snatch again. Boom, the weight goes up. I stayed on this track, repeatingly telling her to focus. Finally, her named was called and with absolute and unscathed focus she made the lift and gave that big smile of hers! 2 for 3 and we both had learned something about how she ticked as a competitive athlete…but it was far from over.
After a long warm up session, we hit the floor for clean & jerk. Now the jerk for Deanna is automatic for her if she gets the clean. This is why it was so shocking to see her miss the jerk on her opener of 73K (160.6 lbs.). When she came off the floor, I asked why and she said she could not breath and felt like she was going to pass out. Once again, too much adrenaline and too much emotion, so Butch and I decided to stay where we were and have her attempt the lift again. I went back to our previous exercise, getting her to control her breathing and take her mental reps. She walked back on the platform and made the lift. A little shaky on the jerk, due to technical inefficiency, but solid nonetheless. Now, the original plan was to go for a PR, but based on how she was looking, Butch and I were thinking about taking the safe route again. However, something about Deanna's mannerisms swayed us the other way. Her newly found self-confidence and new mental strategy was clicking, so we decided to go for a 1K PR at 78k (172 lbs.). Getting over 77K (170 lbs.) had been a real mental block for Deanna; however, Butch and I believed in Deanna and I believe our confidence in her gave her the mental strength to make the lift. Having several minutes yet again, we walked back over to our warm up area for more mental reps, then to lift active technical reps. After lots of self-confidence building techniques, I truly felt like Deanna was ready. I remember saying that regardless of what happens she would remember this experience, good or bad, for the rest of her life. Best to make it as memorable as possible. Deanna's name got called. I could see the mental reps happening in front of me. PR clean to stand the weight up. Then, controlled breathing… followed by a perfect PR jerk! A new all time PR, a new competition PR, and a new competition total PR by 5K at 142K. This propelled Deanna to 5th in her session, but even more, Deanna learned what focuses her as a competitor and that she can crush adversity. I got to learn what made her tick and what approach to take when coaching her in the future.
The things each athlete learned this weekend were the most valuable parts of the trip. They accomplished so much more then just PR's by learning about themselves as athletes. Sports bring the best out of people, and in this case learning how to focus through adversity is a life lessons to cherish as well. A job well done, girls! We are very proud of you.
WARM UP:
100 Jump Rope Singles
25 Thrusters  (45/35/15)
15 Strict Pull Ups
Then:
Hip Mobility
LIFT:
Front Squat
5 @ 70%
3 @ 80%
2 @ 90%
*2 Rounds 5-3-2, then 5-3-2
WOD:
"COLOSSUS"
AMRAP 20
50 Double Unders
1 Thruster (From the Floor)
*Start at 65% and work up from there.
**Score = Last successful weight lifted.
POST WOD:
Roll & Stretch